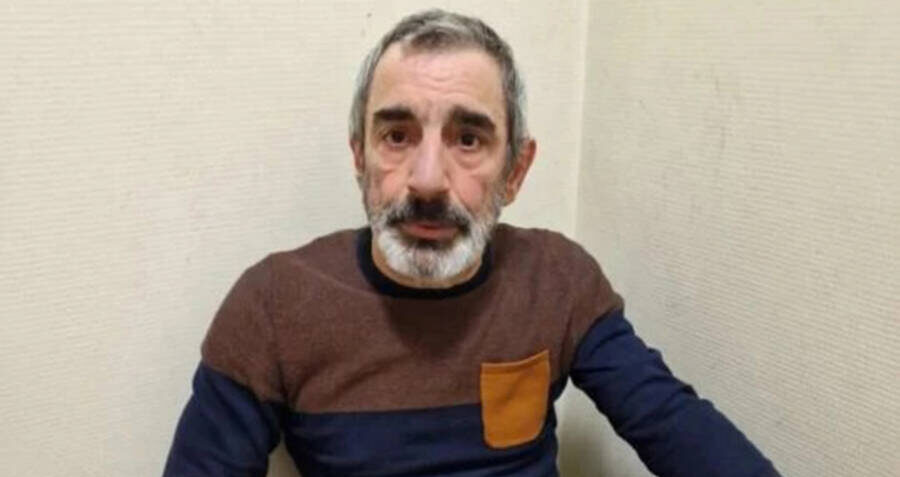 Edgardo Greco, a convicted murderer and former mobster, was arrested by Interpol after 16 years on the run after a small newspaper in France published a story about his new restaurant.
For residents of St. Etienne, France, Paolo Dimitrio, or "Rocco" as locals affectionately called him, was an average man looking to make a living as the owner of a new pizzeria.
"I only want to offer regional and homemade recipes," he said proudly to Le Progres, a regional French newspaper, in a 2021 interview about his new restaurant's upcoming opening.
Two years later, authorities would identify "Paolo Dimitrio" as Edgardo Greco, a brutal mobster wanted for multiple murders that occurred during a "mafia war" in Italy's Calabrian province. And on Thursday, Interpol officers arrested Greco on his way to start an evening shift at the pizzeria.
Edgardo Greco was heavily involved in Mafia activity in Catanzaro and Cosenza, two towns in Italy's southern Calabria region. In the 1990s, two mafia clans — the Pino Sena and Perna Pranno — dominated the area, and violence between them was so intense, Italian authorities and locals dubbed it a "mafia war."
According to Interpol's press release about the case, the International Criminal Police Organization, Greco was a member of the Perna Pranno gang and had ties to the Calabrian 'Ndrangheta, Italy's most powerful crime syndicate.
In 1991, Greco was convicted of two murders and accused of the attempted murder of a rival mafia boss. According to Le Monde, Greco bludgeoned two brothers, Stefano and Giuseppe Bartolomeo, to death with a metal bar in a fish shop in 1991. Three years after the murders, Greco unearthed their buried bodies and dissolved them in acid to cover his tracks.
In 2006, authorities issued an arrest warrant for Greco as part of a larger Mafia crackdown in the region. Before authorities could arrest him, Greco vanished. The courts convicted Greco of murder in absentia and handed him a life sentence.
Italian authorities and Interpol struggled to locate Greco for over 16 years. Lieutenant Col. Dario Pini, commander of the Italian carabinieri unit who investigated Greco, noted to The New York Times that the mobster was exceptionally difficult to track down as he did not attempt to contact his family members the entire time he was at large.
On the run and facing multiple warrants for his arrest, including a European arrest warrant, Greco, now going by his alias "Paolo Dimitrio" moved to Lyon, France and opened his own pizza parlor. The mobster was untraceable for years until a local news story tipped investigators off to his whereabouts.
In July 2021, an article in the Le Progres newspaper featured a story about the exciting new Italian restaurant opening in the city of St. Etienne, France. Alongside the story was a photo of "Paolo Dimitrio" standing proud and cross-armed in his restaurant's kitchen. He told the newspaper how he was a local of St. Etienne, but his deep knowledge of traditional Italian cuisine, particularly Calabrian cuisine, came from his grandmother.
"No matter how hard fugitives try to slip into a quiet life abroad, they cannot evade justice forever," Interpol chief Jurgen Stock stated regarding Greco's attempts to assimilate to routine life in St. Etienne.
Using the photographs they had of Greco and comparing them to the newspaper article, investigators were able to say with certainty that "Paolo Dimitrio" was Edgardo Greco. According to the New York Times, Italian investigators informed French authorities of Greco's residence in St. Etienne and began surveillance operations. In a joint effort, Interpol and French authorities arrested Greco on his way to work.
According to Lieutenant Col. Dario Pini in his statement to the New York Times, Greco initially denied being the wanted mobster. Once Greco met with Italian authorities from Calabria, Lt. Pini stated that Greco "realized it no longer made sense to continue lying." Greco admitted to being the wanted fugitive, and authorities began working on his extradition process back to Italy.
After Greco's arrest, Italian authorities rejoiced. Greco's arrest marks the second high-profile mobster arrest from the Calabria region. The search continues for other high-ranking mobsters, especially those affiliated with Calabrian 'Ndrangheta.
Despite the work that authorities still need to do, Interpol and Italian investigators celebrated this victory. Italy's Interior Minister Matteo Piantedosi stated in Interpol's press releas, "yet another arrest of a dangerous fugitive shows how constant and fruitful the work on this front is."
When confronted with the truth about Greco's past, employers and associates of Greco in France were appalled. According to the New York Times, Maurizio Diana, owner of L'Agora restaurant where Greco worked night shifts, stated that he was shocked to learn that he had a convicted killer on staff.
The story of Edgardo Greco holds a valuable lesson: before you grab your first slice, you might want to get a good look at who made the pizza.
---
After reading about mobster Edgardo Greco, discover the story of Lester Eubanks, a convicted child-murderer who was been on the run for the last fifty years. Then read about 11 of history's most daring prison escapes.

Denial of responsibility! Gulehri.com is an automatic aggregator of the all world's media. In each content, the hyperlink to the primary source is specified. All trademarks belong to their rightful owners, all materials to their authors. If you are the owner of the content and do not want us to publish your materials, please contact us by email – admin@gulehri.com. The content will be deleted within 24 hours.