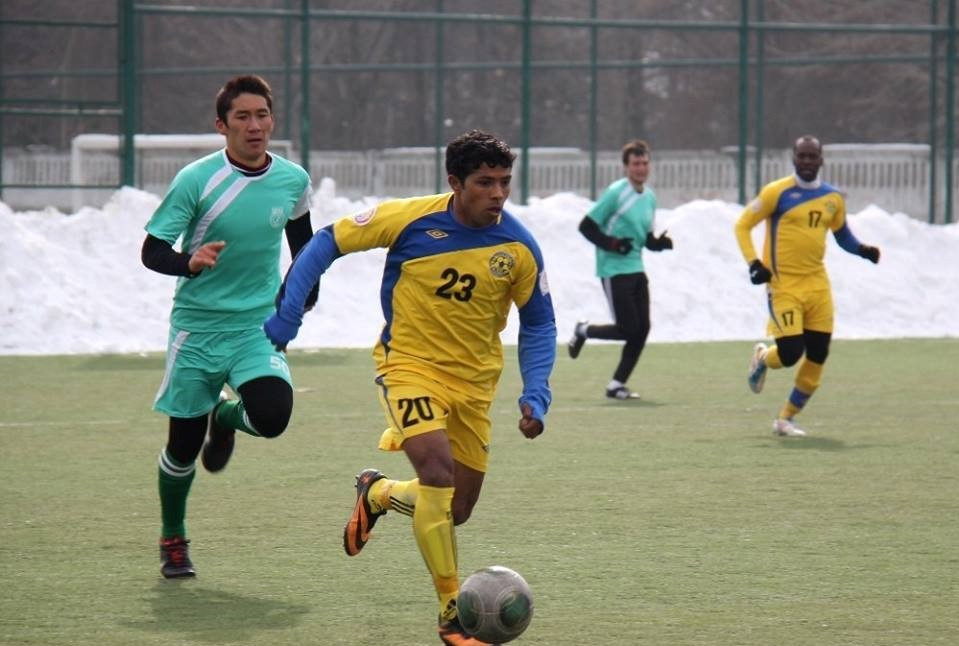 2022-02-12 05:06:47


KARACHI:

"With the way things are going the survival for footballers is getting difficult. I look back and I see that I survived and now I'm in a better place, but with the economic conditions in sports make me worry," says Muhammad Adil, who is a clever footballer, a subtle presence and more so has a huge heart. He is an embodiment of "survival is important, but thriving is elegant".
From his home town in Bahawalpur, the 29-year-old is preparing for his next move to a league in Nepal next month if all goes well, keeping a low profile for years now, despite becoming the first Pakistani footballer to actually have the most successful foreign transfer that was to FC Dordoi back in 2014. Adil still has his feet on the ground firmly.
His is a story that is of the legends, the kind that changed fortunes for him but also for the families associated with him. He is considered one of the best midfielders Pakistan has seen lately.
A journey from being a fruit and sugarcane merchant at a young age to support his family to now being a footballer and that too a thriving one, despite being a Pakistani in the field where the country's Fifa ranking is perennially squatting at the bottom, at 197 currently.
Not resilient but anti-fragile
Adil is living the concept of recovering well from damage or loss by becoming stronger than the previous stage very actively.
Adil have played for four foreign clubs and his last spell was with Sri Lanka's Defender FC, while his Australian Club Hawksbury City FC wants him back too all during the global pandemic that has been a huge challenge for all the athletes.
"I have the opportunities but the Covid-19 restrictions have been tough, especially for Australia, although they have told me to apply for visa," Adil told The Express Tribune. "For now I'm hoping to go to a club next month in Nepal, while I am training with Wapda FC at the moment. However my goal has been to stay fit mostly. The pandemic has been such a challenging time for everyone that we all had to adapt to the new normal.
"But I am grateful that despite it all, I still got to play a season in Sri Lanka and that was very important for me."
These days, he is also fiercely supporting the local talent in Bahawalpur and Multan where he trains for Wapda and also conducted trials for the Global Soccer Ventures (GSV) talent hunt with the Irish Premier League Club St Patrick's Athletic FC coaches.
He returns to his roots all the time. "My club is Young Blood FC Bahawalpur. They took me to Lahore for U14 trials when I was just a boy, they supported me in so many ways and they were my mother club from 2004 onwards. There are players, three to four of them, who are also picked up by Army's departmental side now from the club, and that makes me happy.
"I train the children and try to support the aspiring footballers from my own city. Like my own younger brother plays football, but I saw the effect of playing football first hand. It did change my life. The families in our neighborhood saw it, my own relatives saw the progression and now they want their children to pick up sports, not just football but any sports because they saw me getting better in financial status and otherwise too," said Adil with immense humility, remembering that he used to work for several hours as a labourer before going to the field to play in 2004.
But now his focus is to invest in programs that can help the upcoming footballers and his days as a fruit merchant prepared him for the business side of the sport.
For Adil, the motivating factor is that there needs to be constant improvement in all departments of life. The hunger to get to a better existential plane helped him in sports, while patience helped too.
He reminisced that he represented Pakistan in 2006, and received Rs30,000-35,000 for playing and that meant more than anything at the time; a perfect reason to play football and strive for bettering his skills on the field.
"I came from a place where basic survival was difficult," said Adil. "It was hard and to get money to play meant that I had a way for myself and my family's brighter future. I decided that I want to get better with my footballing skills. I remember getting into my first club contract which was with Pak Elektron (PEL) FC which was for Rs6,000 at the time, but instead of losing my wit, I chose to stick with them. I thought this will bring better opportunities for me, bigger departments showed interest in picking me, and I chose Khan Research Laboratories (KRL) later. That contract was for Rs20,000 back then. I thought of course after this something better will come my way, and then we played the Asian Football Federation (AFC) President's Cup final, which made me believe in myself.
"I thought, if so many of these players from other countries can go play in these clubs, then why can't I do it. Then came the FC Dordoi offer," said Adil, who made his national team debut in 2011. He had already represented Pakistan in the U14 international events by this time, played Asian Games and South Asian Games as well.
Adil played a crucial role, scoring goals for KRL FC to progress to the AFC President's Cup final.
The rest is history, but a painful one for Pakistan football because while at FC Dordoi, Adil saw the PFF fall apart due to political in-fighting of the officials.
The lack of infrastructure and semi-professional set-up in Pakistan meant rickety opportunities for the players with sporadic international events participations.
He signed on with Malta's Pembroke Atlantic FC after the release from FC Dordoi in 2016 till 2017. Then he went to Australia, where he suffered from a knee injury and it was crucial time for him that could have meant the end of his career.
"I got this injury, but I was lucky to be with Hawkesbury City FC, a good club that gave me a good opportunity, but also advice. I got my surgery there at the right time, from the right people, which made so much difference. I came back to play Saff Cup, and I just told myself that this didn't happen. I pushed myself and now I make sure I stay fit. I have a gym in my house that has everything in it, so I feel one learns from each turn in life," said Adil.
However, with PFF banned by Fifa, Pakistan team not playing in the international events, and the country being at 197th place, Adil feels the major hindrance comes when applying for clubs abroad.
"I enjoyed my time in Malta a lot, the European side of football is fascinating, but I really want to play in Turkey because it has football all year round. When we trained pre-season there, 10 to 12 quality pitches were always available, but again it comes down to understanding that I am a Pakistani footballer. Many times people get surprised that Pakistan has a football team too, but here we are trying our best despite what PFF politics has done to our game. The bad ranking really affects players who want to play abroad," said Adil.
Coaching calls
Adil wants to play his best football, but he has found great joy in training younger players too. He said that while with Hawkesbury City FC, he would train under-nine to U12 players during his free time. He does it with Young Blood FC players too. Now he feels the GSV initiative that involved him in the process of the trials in Multan was a pleasant experience.
"GSV is a good initiative," said Adil. "They enlisted me and Muhammad Faisal Iqbal, our former national team right back for the job. We picked 77 players from the local trials for the Irish and European coaches to further look for talent among them," explained Adil.
The GSV have inked an agreement with the Irish Premier League club St Patrick's Athletic FC and they held trials in 10 different cities to choose 20 youth players who will now train in Ireland under Prime Minister's Kamyab Jawan Sports Drive program.
Adil feels the experience taught him about coaching more. "I enjoyed it because the European coaches told us to not just look for short-term but long-term plan, qualities that can be further developed, and not just found randomly in the crowd. We need to prepare the players for games and I loved transferring the knowledge and skills that I have learned to these young boys," said Adil.
Adil is also hopeful with the current situation in the PFF ban that seems to be lifting soon, with the Fifa-appointed Normalisation Committee to take charge of the headquarters that they had been kicked out of by the opposing faction in March 2021.
"Our whole career and time as footballers in Pakistan has been spent in hoping that things would get better," said Adil. "I know the youth is disheartened too with such a long dark period where the players had no way of representing Pakistan and playing quality football. The survival for footballers has only gotten harder. But we still hope, because there is no other way."