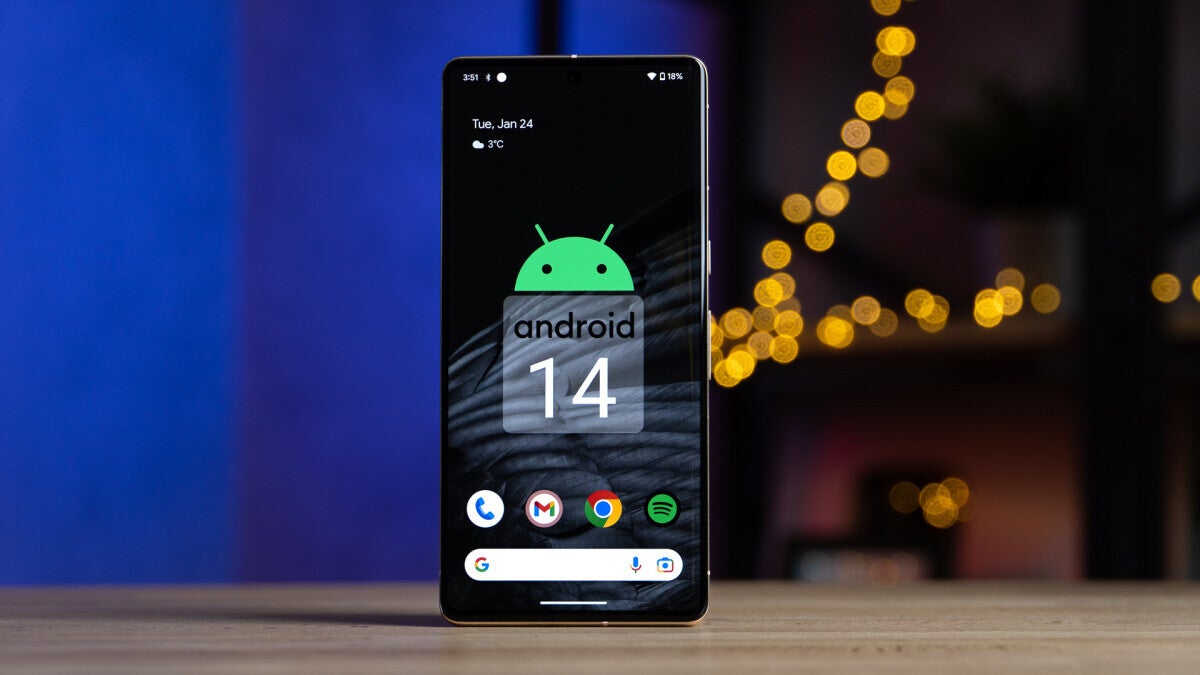 A preview of Android 14 was strikingly absent from last week's Google I/O developer conference. But what
Google
did announce was a feature called Ultra HDR. Compatible apps on Android devices running Android 14 will be able to show photographs with a wider range of colors and brightness. And since the supporting technology to run Ultra HDR is already found on flagship Android phones, as long as you update your device to the latest Android build in August, you'll have this new feature on your phone.
Ultra HDR images are brighter, more realistic, and colorful

According to
Forbes
, Ultra HDR will be supported by the Google Photos app. Third-party app developers will have to decide for themselves whether to support the technology but since Adobe is making it easy for them to do so, most big-name apps will probably include Ultra HDR support. The technology works by adding an extra layer of information called a Gain Map to a standard jpeg image.
A standard dynamic range image at left compared with an Ultra HDR image
According to Adobe
, whose patent explains how to create Gain Maps and how to store them in a standard jpeg file, "Images optimized for High Dynamic Range (HDR) displays have brighter highlights and more detailed shadows, resulting in an increased sense of realism and a greater impact." Adobe adds that there is an issue as these images can look different on various devices.
Adobe explains why this happens. "There are several reasons, including varying capabilities of HDR displays and the different tone mapping methods implemented across software and platforms. Consequently, HDR content authors can neither control nor predict how their images will appear in other applications." The Gain Map is the solution to this issue since it "combines both standard dynamic range (SDR) and HDR renditions within a single image and interpolates between the two dynamically at display time."
The Ultra HDR technology is backward compatible which means that apps that don't support the technology will be able to show the image in SDR. You can see the difference in the image from Google that is embedded in this article. On the left is a photo in SDR while the brighter, more vivid Ultra HDR image is on the right.
Google tells app developers in the Android Developers Blog
that "Rendering these images in the UI in HDR is done automatically by the framework when your app opts into using HDR UI for its Activity Window…"
Ultra HDR will soon be rolling out to those Beta testing Android 14

While Google's Ultra HDR announcement covers only jpeg images, there is nothing that stops Apple from implementing the same technology on the iPhone's HEIC format. Ultra HDR
will be rolling out soon to Android 14 Beta testers.
While the Android 14 Beta program has been a buggy mess, the recent release of Android 14 Beta 2 has been a huge step forward but next month we expect the Beta program to enter into platform stability. This means that internal and external APIs have been finalized and app-facing behavior has also been finalized. At platform stability, most developers are concentrating on "compatibility testing and quality."
Still, you shouldn't install the Android 14 Beta on your daily driver. If you must get an early jump with your Pixel 4a (5G) or later, go to the Android Beta website at  google.com/android/beta, or
tap on this link
. When you get to the Beta Program website, click on the rectangle that says "View your eligible devices." You will then see a photo of your Pixel model with an Opt-in button underneath. Tap on it and follow the directions.
After a few minutes, go to
Settings
>
System
>
System update
to update your phone. Keep in mind that you won't be able to exit the Beta program early without wiping the data from your device. Once the final version of Android 14 is installed on your Pixel, for a limited time you'll be able to exit the Beta program without any penalty. And before you download any Beta software, back up your data.
Read original article here





Denial of responsibility! Gulehri.com is an automatic aggregator of the all world's media. In each content, the hyperlink to the primary source is specified. All trademarks belong to their rightful owners, all materials to their authors. If you are the owner of the content and do not want us to publish your materials, please contact us by email – admin@gulehri.com. The content will be deleted within 24 hours.