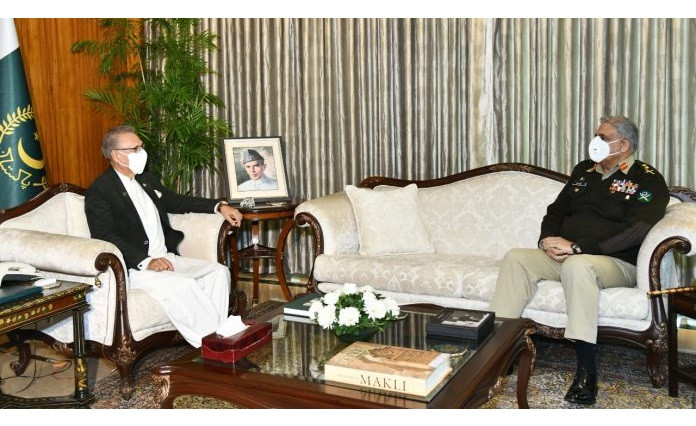 2022-02-14 08:08:33


ISLAMABAD:

Chief of Army Staff (COAS) General Qamar Javed Bajwa on Monday called on President Arif Alvi and Prime Minister Imran Khan and discussed national security and the regional situation.
According to an official statement, during the meeting held at Aiwan-e-Sadr, Gen Qamar reiterated that the armed forces are committed to eliminate militants and miscreants from the country.
It further stated that the COAS briefed the president about the professional preparedness of the armed forces and the measures being taken against the terrorist elements.
Talking to the army chief, the president paid rich tribute to the security forces who laid down their lives in the recent operations against militants in Balochistan and the newly merged districts of Khyber-Pakhtunkhwa.
Also read: Army chief vows to root out terror
He said the nation was proud of the sacrifices of its armed forces who had always defended the national frontiers against all odds.
In a separate meeting, Gen Qamar called on PM Imran and discussed professional matters pertaining to the army, an official communique released by the Prime Minister's Office said today.
Last month, the COAS reiterated the resolve of the army to fight against terrorism till its elimination from the country.
He had vowed sacrifices of martyrs would not go in vain and "complete peace will return to Pakistan".
Paying tribute to brave tribesmen, officers and soldiers of Pakistan Army, FC, Levies, Khasadar and police, he had also reaffirmed that complete peace will return to Pakistan.
Gen Qamar had also appreciated security forces for providing enabling environment for the completion of socio-economic development projects in the newly-merged districts, vital for enduring stability and sustainable progress of the area.