2022-09-21 13:14:53


LAHORE:

Tensions between India and Pakistan may be perpetually higher and leaders from either side lock horns over a range of sticking points, but a rare act of kindness from a man from across the border is making big differences in the lives of his "Pakistani brothers and sisters drowning in waters".
His aim: Provide and muster enough support until disaster debris becomes building blocks for a new life and new homes are built out of rocks and sand.
Gurcharan Singh Banwait, a Canadian citizen of Indian origin, has travelled all the way from Canada to connect with the local Sikh and Hindu communities to mobilise support for those affected by the floods.
Catastrophic floods triggered by torrential rains this year have wreaked havoc in Pakistan rendering nearly 33 million people homeless. Nearly 1,600 people have lost their lives since mid-June, while thousands have been injured.
Mr Banwait told The Express Tribune that his organisation, International Punjabi Foundation, is engaged in welfare services in several countries across the world, emphasising that his help transcends all borders under the spiritual light of Baba Guru Nanak's teachings, the founder of Sikh faith.
Also read: Floating house' seeks to prevent future displacements
"I am not a representative of any country or religion. What I do is guided by the teachings of Baba Guru Nanak and 'Wahe Guru'," he stressed and said he has come to help his Pakistani brothers and sisters in this hour of need.
His foundation has distributed tents, rations, medicines and cash to hundreds of families under the guidance of Sikh brothers in Pakistan and the government representatives in the affected areas of Sindh and Balochistan.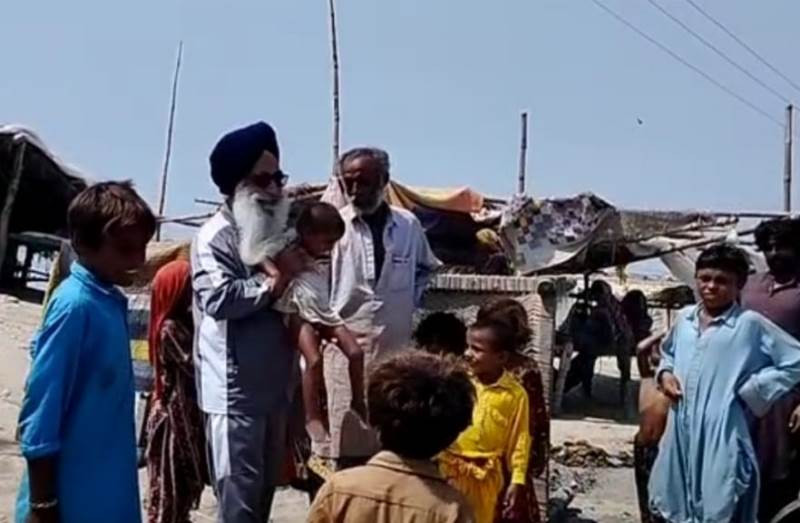 "The situation here is very alarming, people need a lot of help," he said and assessed that the construction and rehabilitation of the houses may take several months. "It requires a lot of money."
He appealed to the Sikh community spread all over the world and the international welfare organisations to support the Pakistani nation.
Also read: ADB announces 'significant' flood relief package
He said he was grateful to the government of Pakistan for granting him permission for the relief activities. "Pakistani nation has given me so much love."
Mr Banwait affirmed that his organisation will continue to help the flood victims until all the affected families return to their homes.