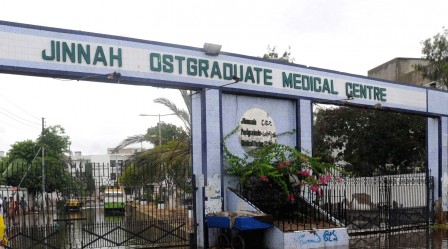 2022-02-07 16:09:47


KARACHI:

A 32-member delegation from the Armed Forces Post Graduate Medical Institute (AFPGMI) of Rawalpindi Monday visited Jinnah Postgraduate Medical Center (JPMC) as part of an educational course. The visitors was introduced to the CyberKnife and Tomotherapy technology which had been installed in the Radiation Oncology Department of JPMC.
According to a press release, this is a recent invention and the first of its kind in a public-sector hospital in the country,
JPMC Executive Director and Acting Vice Chancellor JSMU Professor Shahid Rasul said the objective of this institution is to preserve the name of the Father of the Nation. "I'm grateful for the contribution of the Government of Sindh and civil society to upgrade the tertiary healthcare system of JPMC.'
The delegation was headed by Major General Zaheer Akhtar, AFPGMI Commandant Brigadier Muhammad Zaman and Semester DS Colonel Saadullah Abbasi.
"JPMC introduced its first unit of CyberKnife in 2012 and the second unit was installed in 2018.
Read More: JPMC doctors fettered by lack of promotions
The device allows for minimal tissue destruction as compared to other radiation treatments available in Pakistan's top healthcare system," Professor Tariq Mahmood briefed the audience.
Medicine Dean Professor Masroor Ahmed JPMC Deputy Executive Director Dr Mohammad Suleman and Administration Deputy Director Dr Yahya Tunio and others spoke on the occasion.
CyberKnife is a premium robotic radiosurgery structure that treats malignant tumors and offers a curative treatment with absolute minimal side effects.
Published in The Express Tribune, February 8th, 2022.