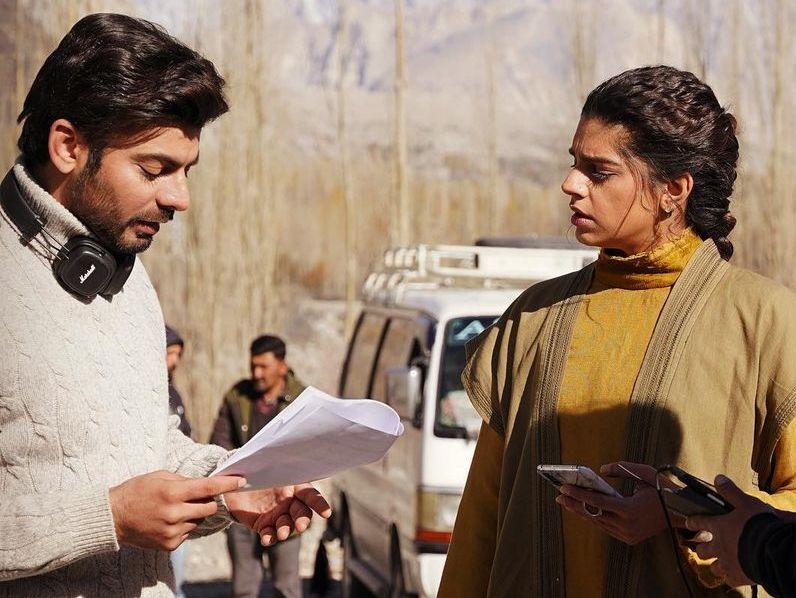 2022-02-10 02:42:40

Sanam Saeed's successful career is a testament enough to boast about her acting prowess. While the star has worked in limited projects, her work speaks for itself. From fearless Kashaf to conniving Zuvi, Saeed has managed to win the hearts of the audience with her brilliant ability to mold herself into her characters. 
Recently in an interview with Indian cultural journalist, Puja Talwar, the Cake star spoke about making a conscious effort for choosing roles and characters that are imperfect and that have many layers and shades to them. 
Saeed commented, "I don't think I have come across any perfect character as such. I have to fall in love with my character. I have to understand her, feel her, believe in her, understand her journey and her story and I think subconsciously I look for a message that my character can pass on to the viewers. As they say, TV is an extremely powerful tool which I understood very young in my career. I want to do roles that have a positive impact on women."
Earlier, in an interview with The Express Tribune, Saeed had spoken about how she now prefers the OTT platform over television. Elaborating on the same, the Mera Naseeb star penned, "On TV things are still a little controlled to be sensitive to certain topics but, OTT platforms have given filmmakers and writers a platform to talk more about taboo topics and it is very necessary because we can't have this false bubble."
Talking about women-oriented roles and characters she would like to see more of, she remarked, "I would like to see women in sports or women in their workplace. We have seen women playing domestic roles but we haven't seen much of working women. We have had a lot of women in uniforms lately and that's exciting but unmarried, independent women and older women characters still need to be explored. It's important to educate people and broaden their horizons."
Saeed also spoke about how limited representation Pakistanis have in international projects, Saeed shared how Indians have more roles to play. "I feel Indians still get represented but Pakistanis…not at all. We have Indians playing Pakistanis or Iranians playing Pakistanis or someone from the Arab world playing a Pakistani but you rarely have a Pakistani actor playing a Pakistani role in a foreign series," said the actor.
She went on to talk about some of her favourite actors from Bollywood. Saeed relayed how she likes Tabu and Vidya Balan still play lead parts, which seem fierce and challenging. She also opens up about some of her favourite Bollywood movies and Indian shows and said, "Andhadhun was amazing. It wasn't done before. I liked the genre. I also liked Haseen Dilruba. I also like crime thrillers like House of Secrets and Delhi Crime."
She concludes the interview by talking about reuniting with Fawad Khan for an upcoming series, eight years after their hit television serial Zindagi Gulzar Hai (2013). The yet-to-be-titled show will be helmed by director Asim Abbasi. She said, "I can't say much about my character but it's a family drama. Expect a very different dynamic between Fawad and me. Don't come in expecting a Jodi of Kashaf Murtaza and Zaroon Junaid."
Fawad and Sanam reunite onscreen
Previously, Khan, making a reference to the TV channel Zindagi, said in a statement, "I think Zindagi is taking bold and brave decisions when it comes to storytelling. It's naturally evolving into a platform that encourages diversity of opinion and inclusiveness for all filmmakers and material ranging from everyday mainstream to avant-garde and noir. I feel there's a place for everyone in this artistic landscape."
Saeed had also added, "I'm thrilled to be collaborating with one of my favourite directors Asim Abbasi again, this time for Zindagi. This new project embarks on a fantastical journey with some stunning performances by a very meticulously picked cast. I can't wait for everyone to see the magic that's been created in this beautiful limbo land."
On working in India
During the virtual trailer launch of Qatil Haseenaon Ke Naam, the actor had commented, "I am open to working in Indian films, not television. I prefer TV on this side of the border. There are so many genres of films I want to work in, so many actors I would like to collaborate with." She added, "But to start with, Aamir Khan is someone I would like to work with."
Talking about the popularity of Pakistani content on OTT in India, Saeed went on, "We know how India is, we have watched their films. But they didn't know how we look and what our lives are like. So it was eye-opening for them. We look the same, eat the same food, we are practically brothers and sisters."
She added, "They now know that Pakistanis look like us, have the same kind of hair, talk like us, talk a little better in Urdu. OTT platforms have given us that freedom, where the bans and politics are all set aside, and we can reach the Indian audience through our shows and the response has been overwhelming."
Have something to add to the story? Share it in the comments below.