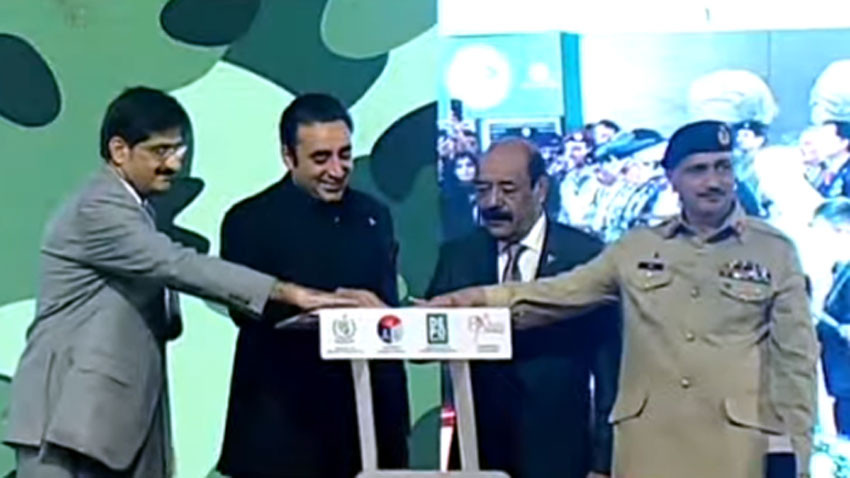 KARACHI:

Foreign Minister Bilawal Bhutto Zardari inaugurated the 11th edition of the International Defence Exhibition and Seminar 2022 (IDEAS 2022) at the Expo Centre in Karachi on Tuesday.
Federal Minister for Defence Production Muhammad Israr Tareen, Sindh Chief Minister Syed Murad Ali Shah and senior civil and military officials attended the inaugural ceremony.
The exhibition will continue till Friday and 300 exhibitors from 32 countries will display their latest and innovative products, whereas over 500 national and international delegates are taking part in the exhibition. High-level defence delegations of friendly countries are also participating in the IDEAS-2022.
Apart from the six halls of the Expo Centre, three marquees have also been set up, one of which has been named after Kashmir.
A Karachi Show will also be held on Thursday at Nishan-e-Pakistan on the beach for citizens.
Bilawal stresses public, private sectors' integration
In his address, the foreign minister stated that Pakistan's defence industry has achieved a good level of quality and reliability as its products were "comfortably competing" in the international market.
He maintained that though Pakistan was exporting high-tech defence products to more than 60 countries, the volume of exports was not commensurate to the country's actual potential, which was caused by the limited involvement of the private sector and lack of attention to academia interface.
"In order to achieve this goal I will stress the integration of the private and public sectors to achieve maximum results," he said.
The foreign minister stated that the incumbent government will continue to promote a business-friendly environment for investments in human capital and professional development and that the government was committed to delivering an industrial strategy that enhanced employment. He urged small and medium industries to "join hands" with the defence industries.
"When we talk about the defence industry, IDEAS is an iconic platform for showcasing the latest defence technologies, and is a regional gateway for international suppliers and manufacturers to explore new avenues of defence cooperation through joint ventures, outsourcing and collaborations," the FM said.
He furthered that new technology led by a revolution in the field of Artificial Intelligence, was playing a "vital role in confronting various security challenges" and that the "responsible use of technology advancement could make the world a better and safer place".
"Pakistan being a responsible state is always committed to playing its role for international peace and stability. Reciprocity of mutual interest and international loans are the guiding principles that govern Pakistan's relations at the bilateral and multilateral level".
Commenting on the regional context, he maintained that the transformation of the South Asian geo-strategic environment had further accentuated the importance of the region in world affairs.
"Resultantly, regional cooperation and active engagement with regional and global players has become imperative, particularly to achieve regional peace, security and social-economic development," he said.
Bilawal stated that instability and turmoil that had beset the region for many decades also needed "a firm and coordinated response by all stakeholders", adding that Pakistan believed in a meaningful dialogue based on equality, not only to resolve bilateral issues but also to unpack economic potential.
He added that the increasingly complex security environment of the world posed multifaceted threats to national security and the stability of the country.
"With the rapid advancement in technology and proliferation in knowledge we are facing a physical change in the established security paradigm. In today's globalized world national security has emerged as a dynamic concept that is as much economic, social, political and institutional as it is military and strategic in nature," he said, adding that in the age of fake news and disinformation the threats to national security had increased.
According to the FM, the spectre of rising global food and energy crises was putting immense strain on national cohesion. Thus, deepening internal fault lines.
"It is our opinion that the best way to safeguard and strengthen national security is to achieve economic self-reliance, rebuild and strengthen political institutions and deliver the 21st-century governance that is required," he stated, furthering that this could be ensured by the rule of law and putting people at the centre of public policy.
"This requires a much-needed reset in our thinking as well as the way we conduct business," Bilawal added.
He said that internal consolidation "alone" could help the nation to secure its core economic foreign policy and security interests, adding that in order to do so each institution must not only function within its constitutional domain but focus on its objective and on its national goal.
"For example, I am a parliamentarian, a politician, and it is my job to be answerable in parliament, to be present in parliament, rather than lashing out at my political opponents on the streets or in the public arena," he said.
He furthered that a forum was created where all the people of Pakistan could be represented, and where the exchange of ideas could lead to the addressing of issues of national importance through consensus so the country could "move beyond our consistent state of flux and focus on the priorities of our nation".
"Since our unity government formed it has been engaged in bringing the country out of various challenges, the most serious among these crises … is the stabilisation of the economy," he said, adding that the coalition government inherited an economic catastrophe where Pakistan was on the precipice of default.
He maintained that "by the grace of God and the efforts of the unity government, and the prime minister's finance team, Pakistan was saved from the brink of an economic crisis".
He stated that it was most unfortunate that in addition to the economic impact of Covid-19 and the impact of the Russia-Ukraine conflict, the risk of economic default in Pakistan was a direct result "of conscious decision making".
Bilawal said that this was "shooting oneself in the foot" and that all stakeholders must agree that this should never happen.
"Governments come and go, political parties change, but we should never compromise the fundamentals of our national economic policy".
Read more Arms exhibition to be held after four-year gap
He maintained that the government had been focused on making "service delivery efficient and people-centred", fixing Pakistan's energy woes, rebuilding Pakistan's foreign relations and "giving a sense of stability in our policy if not the political environment".
Commenting on the country's "strengthened" foreign policy, he said that it was a result of teamwork and extensive positive engagement across the board.
"We witnessed a positive trajectory, culminating in our exit from the Financial Action Task Force's grey list," he said, hoping that Pakistan's GSP Plus status will soon be restored.
The foreign minister highlighted that after things started to move in a "positive direction", Pakistan witnessed the worst ever climate catastrophe the country ever saw.
He detailed that one-third of the land mass was underwater and that 1 out of 7, or 33 million people were impacted – which included 16 million children and 600,000 women about to give birth.
"The impacts of this on the backbone of our economy, the agriculture sector, have been devastating. The total loss and damage are more than $32 billion".
He stated that the climate event would correlate with a large section of the population being thrust below the poverty line, and given the massive scale of destruction, Pakistan had been pushed back for decades.
"But in every crisis is an opportunity and we can convert this crisis into an opportunity if Pakistan is not only investing in these rural areas but looks towards rehabilitation. We hope to do so in a climate-conscious manner. We hope to build back better," he said.
He maintained that Pakistan had successfully added loss and damage onto the COP27 agenda after it observed that no international financing mechanism was in place for a loss of this scale.
"After our experience, we joined the countries that had long been demanding loss and damage," he said, hoping that the next country to suffer from a climate catastrophe would be able to benefit from international financing for loss and damage.
He stated that climate change could reverse all endeavours for sustainable development goals and ignite and deepen national security threats.
At the outset of his speech, Bilawal said that he was pleased to see a large number of guests, including honourable delegates, exhibitors and trade visitors "who travelled from around the world".
"Your presence strengthens our resolve to foster strategic relations with our partners and friends while encouraging technological growth and knowledge sharing".
'Pakistan's growing footprint in defence market'
Prime Minister Shehbaz Sharif stated that over the years, "IDEAS has evolved into a platform that highlights Pakistan's growing footprint in the global defence market".
Over the years, IDEAS has evolved into a platform that highlights Pakistan's growing footprint in the global defence market. Arms for Peace, theme of IDEAS'22, reflects Pakistan's desire for peace & stability. Good to see that our defence sector is catering to demands of tech era

— Shehbaz Sharif (@CMShehbaz) November 15, 2022
"Arms for Peace, the theme of IDEAS'22, reflects Pakistan's desire for peace and stability," he said, adding that it was good to see that the defence sector was catering to the demands of the technological era.
Traffic plans
With the expo being held under tight security, Karachi administrator Murtaza Wahab shared the city's traffic plan for the next four days.
"In order to avoid any inconvenience, commuters are requested to plan accordingly," he suggested.
Traffic plan for Ideas 2022 has been prepared, which will be applicable from today 15.11.2022 till 18.11.2022. In order to avoid any inconvenience, commuters are requested to plan accordingly. #Karachi is honoured to be hosting such an important international level event pic.twitter.com/oLbjxMt0M1

— Murtaza Wahab Siddiqui (@murtazawahab1) November 15, 2022
Heavy commercial traffic from Sharea Faisal to Sir Shah Suleman Road will not be allowed to use the National Stadium flyover, and will instead have to use Karsaz and Drigh Road to arrive at Rashid Minhas Road and NIPA. The public coming from the airport will use the Drigh Road Flyover to turn to Rashid Minhas Road and NIPA.
Also read Preparations for IDEAS 2022 in full swing at Expo Centre
No traffic on the Rashid Minhas Road will be allowed to go towards the National Stadium using Dalmia Road. The commuters will have access to Sharea Faisal to Drigh Road, up to Gulshan Chowrangi to Sohrab Goth.
Vehicles will not be allowed to go from NIPA to the Peoples' Chowrangi on University Road. These vehicles will travel from NIPA to Gulshan Chowrangi to Sohrab Goth or Safoora, or from Rashid Minhas Road to Sharea Faisal.
Traffic moving from the Peoples' Chowrangi to NIPA will have to use Shahrah-e-Quaideen to reach the Mazar-e-Quaid or Khudadad Flyover towards Saddar Dawakhana and Gurumandir.
According to the traffic plan, University Road and surrounding streets will remain open for routine traffic. However, the traffic going from Liaquatabad, Gharibabad and Hassan Square to Sharea Faisal will use University Road and then take a U-turn at the Baitul Mukarram Mosque to turn left from Jaffri Optics and arrive at the back of the stadium, Karsaz or Millennium Mall.
During the exhibition hours – which are from 7 am to 6 pm – both tracks of Sir Shah Suleman Road will remain closed, and only sticker-bearing vehicles will be permitted. Those without stickers will be permitted to turn towards New Town or Dalmia road.


Read original article here



Denial of responsibility! Gulehri.com is an automatic aggregator of the all world's media. In each content, the hyperlink to the primary source is specified. All trademarks belong to their rightful owners, all materials to their authors. If you are the owner of the content and do not want us to publish your materials, please contact us by email – admin@gulehri.com. The content will be deleted within 24 hours.