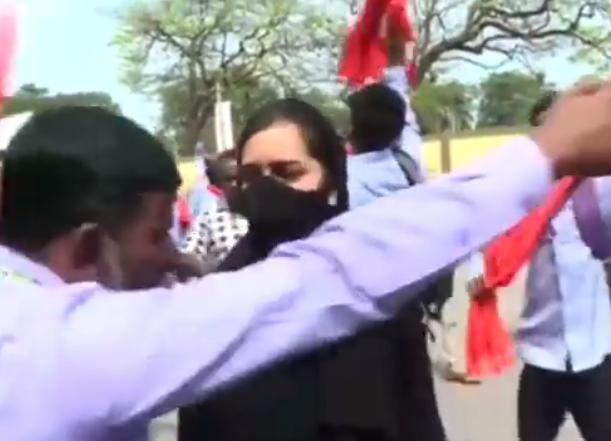 2022-02-08 14:39:32


KARACHI:

A video of a lone Burqa-wearing Muslim student, who was heckled by Hindu far-right goons in India's southern Karnataka state, has stirred an outrage and triggered protests after some schools in the state refused entry to female students wearing the hijab.
"We will continue (our protests) because it (wearing a hijab) is a part of being a Muslim girl; They (friends from other communities) even supported us," Muskan Khan who was heckled by the RSS goons told India's NDTV.
As she parked her scooter inside her college, students with saffron shawls – typically worn by Hindu extremists – shouted at her and tried to surround her, but she remained unfazed by their chants of "Jai Shri Raam" and continued walking towards her classroom while confronting the mob.
"I was just there to submit an assignment; that's why I entered the college. They were not allowing me to go inside just because I was [wearing] the burqa," Muskan told a local news channel.
"After that, they started shouting the slogan 'Jai Shri Ram' (Hail Lord Ram). Then I started to scream 'Allahu Akbar' (God is great)," she said, adding that she would keep fighting for her right to wear the hijab.
A ban on Islamic headscarves or hijab at schools has prompted an outcry among Muslims in southern India, with large crowds taking to the streets to protest against the restrictions.
The stand-off in Karnataka state has galvanised fears among the minority community about what they say is increasing persecution under the Hindu nationalist government of Prime Minister Narendra Modi.
Also read: Protests over classroom hijab ban grow in India
The state machinery seems to be helpless before the saffron scarf group. Instead, some ruling party members are issuing statements to defend ban on hijab which encouraged the RSS members to provoke the situation.
Having failed to control the situation, the Karnataka chief minister Basavaraj Bommai announced the closure of all schools and colleges in the state for three days as the controversy over students wearing hijab on campus intensified, with violence reported from several districts.
So far, several meetings between the staff, government representatives and the protesting students have failed to resolve the issue. The state's education minister, BC Nagesh, has also refused to lift the ban. He said "those unwilling to follow uniform dress code can explore other options".
The incident drew ire of the sane minds including the Bollywood celebrities, media personalities, intellectuals and politicians condemning the Modi government's Hindutva-inspired policies.
As always,it takes a pack of men to attempt to intimidate a woman. Such frightened,pathetic excuses for human beings. Brandishing their shawls as weapons,cloaking their weakness in cruelty. A sizeable section of a rudderless generation lost to hate. https://t.co/PtQJ9zxOIM

— Pooja Bhatt (@PoojaB1972) February 8, 2022
A lone Muslim girl on the way to her college in Karnataka, India is being heckled and harassed by a Hindu right-wing mob for wearing a hijab! pic.twitter.com/DiVjCbqpdW

— Ashok Swain (@ashoswai) February 8, 2022
Opposition parties and critics accuse the BJP government at federal and state level of discriminating against religious minorities and running the risk of stoking violence.
A case filed by one of the students, who said in her petition that wearing the hijab was a fundamental right to religion guaranteed by the constitution, was heard in the Karnataka High Court in state capital Bengaluru on Tuesday.
While no final order was passed, the judge appealed for peace and calm, and will continue hearing the petition on Wednesday, one of the lawyers for the petitioner told Reuters.
(With input from Agencies)