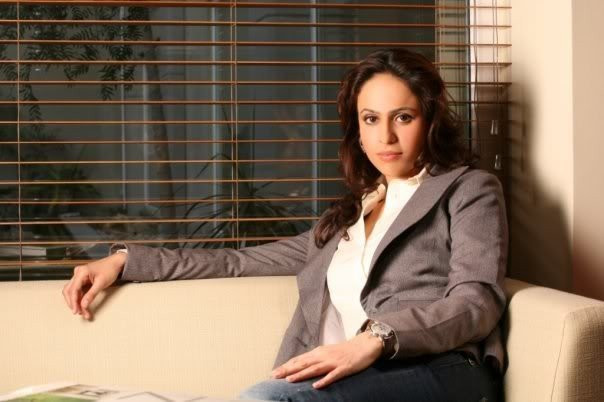 2022-02-03 02:01:37

Model-turned-actor Zainab Qayyum, who recently featured in Hum Kahan Ke Sachay Thay, has a lot to say about her decades-long career on television and the fashion industry. While she feels our entertainment has progressed over the years, she has her reservations about the lack of dramas revolving around older women, who are single, divorced or widowed.
In a recent conversation with Fuchsia, Qayyum also touched upon the flip side of the modelling and how despite that, she fell in and out of love with the profession. "When I was younger, I wanted to conquer the world but as I grew up, I realized that because life is so unpredictable, we need to take it one day at a time," Qayyum started off saying. The artist received her first modelling gig by chance in 1991, when Vaneeza Ahmed asked her to help backstage on a fashion show and also told her she'll be "going on the ramp," provided the organisers were short on models. "I recall being so cranky before all my shows but as soon as I'd step foot on the ramp, all my worries would go away."
But then came a time that adrenaline rush vanished and Qayyum started questioning herself. The Aangan actor spend a good 15 to 20 years as a model before realising it wasn't something she could see herself doing anymore. "And no, there was no resistance from home," she assured.
The flip side of modelling
The actor explained also detailed how much models till date have to go through in order to pull off one shoot. "With no disrespect to the profession because I loved it and I feel there's a time and age for it. But in a very limited time, models are made to change and shoot for eight different heavily embroidered bridal outfits in the sun and go home with scratches and marks all over their body and face. Sometimes, I'd even get cuts and bleed from the jewellery that was pulled off or the zippers on my blouse," shared the TV veteran.
She also recalled how at that point in time, models weren't only looked down upon because people thought they were 'bimbos' and 'brainless', they "were scrutinized and slut-shamed. Parents would worry that no one would marry their model daughter." Albeit, Qayyum feels things have changed now in that regard.
Transition
But when Qayyum stepped into the acting world with her model persona, she was typecast by the industry that couldn't stop seeing her as a "spoilt daddy's girl or groomed rich brat." So, she decided to change her outlook while maintaining her aesthetic sense to be taken seriously as an actor. "I've worn halters with sarees, I brought a lot of my modelling charm on sets. But no one would take me seriously and I didn't want to restrict myself to glamourous roles."
The artist, who ventured into acting after becoming a household name on television with a show on Indus TV, also admitted, "I used to host this show but I got bored of always looking into the camera and addressing my viewers. I get bored really quickly. But I realise today that I was terrible as a heroine." Revealing how she was pressured by her peers into acting, with many including Ahmed telling her "It is a natural progression," Qayyum also faced the brunt of disappointed fans who felt she never should have changed career paths. "They all felt just because I was a model, doesn't mean I could act. And I agreed with them," Qayyum confessed.
But to this day, she doesn't watch her own plays and refrains from even checking herself out in the mirror before stepping foot on set. "I tell the make up artist and the director that my appearance is their responsibility. I will not fuss over it. I don't even like checking the shots on camera. But I do warn them that if they make me look bad, I will be outside their house with a weapon."
Imitating life on TV
Qayyum feels that from a reality show like Maachis to the serials she does today, there are so many societal problems showrunners have tried to convey. But viewers aren't willing to buy that these problems exist in our society. "Many still argue that these things don't happen but they do. And we try our best to show them in whatever censored ways we can. Like Maachis was a precursor of what's going to happen."
However, after elaborating on how she got over her divorce and never married again and never fell in love either, she went on to jokingly ask drama writers – specifically Umera Ahmed – to write stories on women who have crossed the age of 40 and are alone.
When reminded of the Hadiqa Kiani starrer, Dobara, Qayyum argued "Dobara does revolve around a widowed and older woman but it has an elite touch. I feel there needs to be a drama for women who don't come from well off families and are single, divorced or widowed. Aap class neechay karen. This is the same issue I had with #MeToo. All the wrong people were using #MeToo and the women the movement is supposed to benefit, would choose death over chanting 'Mera Jism Meri Marzi'. So, the tabqa for which you want to do this great social work, is failing to relate to you. The masses need to relate to the dramas you're making and to the movements you are asking them to stand for."
About her latest, Hum Kahan Ke Sachay Thay, which also received a significant amount of flak for glorifying domestic violence, Qayyum said, "I think it was gritty and filled with raw emotions. Hats off to Kubra and Mahira Khan for their discipline. It was my first time working with them and if their call time was 9:00AM, they would reach by 8:45AM and they had no diva tantrums. Being a star and being an actor are two very different things and finding both in one is just great."
Have something to add to the story? Share it in the comments below.