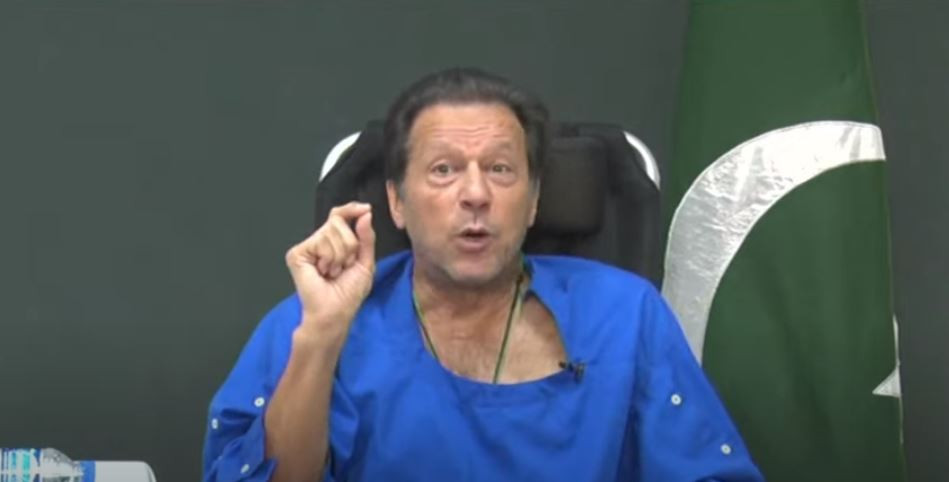 ISLAMABAD:

Pakistan Tekreek-e-Insaf (PTI) Chairman Imran Khan on Sunday said that he wants a transparent investigation into the Wazirabad incident but an FIR has not been registered yet.
"[The] FIR hasn't been registered because they [the police] say we are ready to register a case against the PM and [interior minister] Rana Sanaullah but not Major General Faisal Raheem," he claimed.
While addressing a press conference from the Shaukat Khanum Hospital, Lahore, the PTI chief said that he has a few questions that he wants to be answered.
"First, there are people in Pakistan that are above the law, does the Constitution allow this?" 
Reiterating that three people were involved in his assassination bid, Imran demanded for a transparent investigation and maintained that only a probe would determine "the truth".
"It is my right to register an FIR against them," he said, adding that how is it possible that a Punjab police under the provincial government "keep on giving excuses" and not registering a case.
It is pertinent to note that on Thursday, following the attack on Imran in Wazirabad, PTI General Secretary Asad Umar in a video statement had said that the party chief had named three suspects, who he believed were behind the gun attack on the long march.
The former minister said the PTI chief was certain that the men who had planned the attack were Prime Minister Shehbaz Sharif, Interior Minister Rana Sanaullah and Major General Faisal Naseer.
Referring to the DG ISPR's statement made yesterday, Imran said that is was "shocking" that the military's media wing said that criticizing a military official was akin to defaming the Pakistan Army.
"Mr DG ISPR, have you noticed what you are saying? Is there any logic to it? If so, then why is there court martial?" he asked.
Imran claimed that an attack on him was a conspiracy conspired by the three men he had accused of being behind. "It is my right to register a case. I am the ex-PM of the country," he added.
"If I can't register a FIR, how can any individual do it?" he said, adding that only the powerful in this country are above the law and "layman gets no justice".
Earlier, PTI leader Fawad Chaudhry said in a tweet that the party chief will address a press conference today, adding that it is hoped that the former prime minister will be allowed to go home from the hospital by this evening.
He furthered that the call for protest has been suspended today in view of Raiwind's Ijtimah (prayer gathering).
"Imran Khan will hold a press conference today, it is hoped that he will be allowed to go home from the hospital by this evening. However, the doctors have not yet discharged him from the hospital. The call for protest has been suspended today in view of Raiwind's Ijtimah," he said in a tweet.
تحریک انصاف کے چیئرمین عمران خان آج پریس کانفرنس کریں گے، امید ہے آج شام تک انھیں ہسپتال سے گھر منتقل ہونے کی اجازت مل جائیگی تاہم ابھی تک ڈاکٹرز نے انھیں ہسپتال سے ڈسچارج نہیں کیا، رائیونڈ کے دعائیہ اجتماع کے پیش نظر آج احتجاج کی کال معطل کر دی گئ ہے

— Ch Fawad Hussain (@fawadchaudhry) November 6, 2022
Earlier, the former prime minister had addressed the nation for the first time after he survived an assassination attempt on Friday.
During the address, the PTI chief has asked his supporters to continue protesting against the assassination attempt on him until those who plotted the attack resigned from their positions.
Read: 'No drop in political temperature': Rashid says Imran's long march temporarily halted not over
In a video message from the Shaukat Khanum Memorial Cancer Hospital (SKMCH), Imran Khan said he knew beforehand about the plot to kill him either in Wazirabad or in Gujarat.
The deposed prime minister had sustained bullet wounds to his leg after a gunman opened fires on his container, as he led the PTI's 'Haqeeqi Azadi March' in Wazirabad on Thursday. One person died in the incident, while several PTI leaders were injured.
Immediately after the shooting, Imran was taken to the SKMCH in Lahore. Dr Faisal Sultan, the chief executive officer of the hospital, said that the PTI chief was hit by four bullets to his leg.
Breaking his silence in his video address, the PTI chairman alleged that three people – Prime Minister Shehbaz Sharif, Interior Minister Rana Sanaullah, and a senior military officer, were behind the botched assassination attempt on his life.
More to follow…


Read original article here



Denial of responsibility! Gulehri.com is an automatic aggregator of the all world's media. In each content, the hyperlink to the primary source is specified. All trademarks belong to their rightful owners, all materials to their authors. If you are the owner of the content and do not want us to publish your materials, please contact us by email – admin@gulehri.com. The content will be deleted within 24 hours.