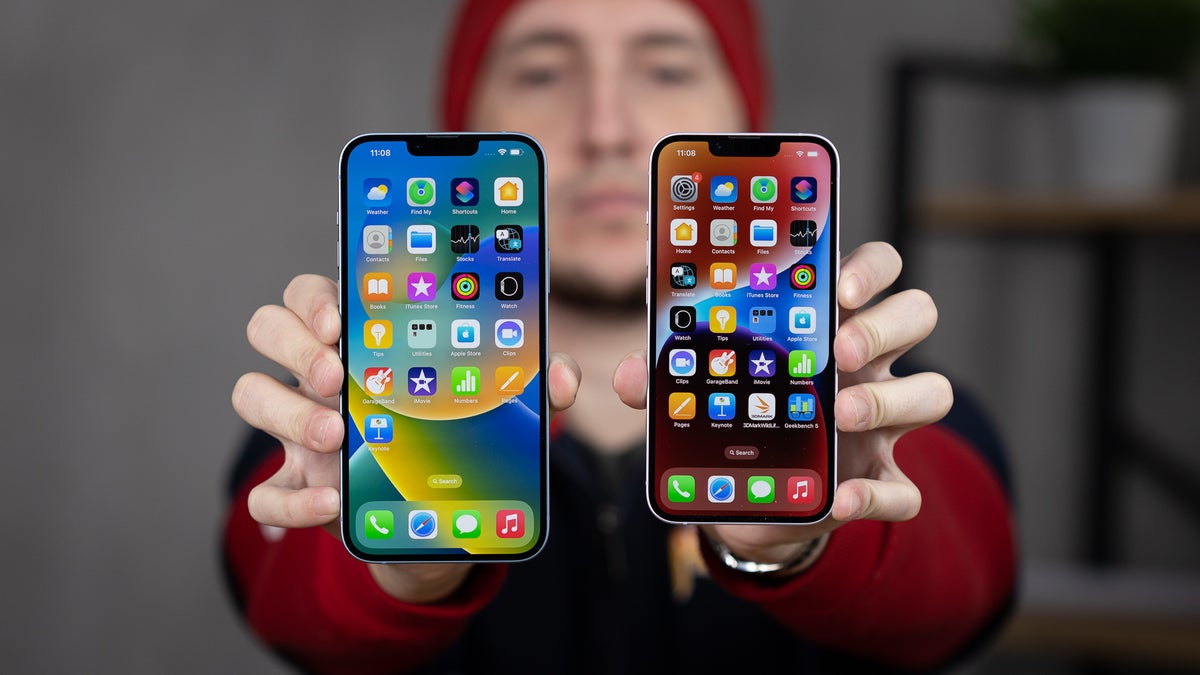 Intro
For the past couple of years, Apple has made it a habit to launch a total of four new iPhones every September — two "regular" models and two bearing the "Pro" moniker. Thus far, the non-Pro variants included a regular-sized iPhone and a mini. However, that's not the case in 2022, as the
iPhone 14 series
dropped the mini model. Instead. we got an iPhone 14 and iPhone 14 Plus.
The Plus variant, for one reason or another, got delayed by a month and launched on the 7th of October. But it's here now and you have a grand total of 4 new iPhones to pick from.
Which one's the right for you? We will be milling over the iPhone 14 vs iPhone 14 Plus here, their specs, batteries, and differences. But if you want to inform yourself on all things iPhone 14, here are the appropriate links:
iPhone 14 vs iPhone 14 Plus in a nutshell:

Normal sized vs plus-sized iPhone (6.1- vs 6.7-inch screens)

Same design language and colors

Battery life is better on the Plus thanks to a larger battery
Table of Contents:
Design and Display Quality
Same screens, but one is smoother
The iPhone 14 and iPhone 14 Plus (Image Credit – PhoneArena)
At the very basic level, these two are fundamentally the same phone. The Plus is just… big. The iPhone 14 has a 6.1-inch screen, while the Plus has a 6.7-incher. These are stretched out in the 19.5:9 aspect ratio and mirror the shape and proportions of an iPhone 14 Pro and iPhone 14 Pro Max. PPI figures are pretty much identical — 460 and 458 pixels per inch, respectively. So is their peak HDR brightness level of 1200 nits and typical brightness of 800 nits.
No Pro Motion on any of these phones — both the iPhone 14 and iPhone 14 Plus stay at 60Hz refresh rate, which is one of the things that Apple reserves to keep them feeling "cheaper" than their Pro siblings. Both are protected by Apple's Ceramic Shield cover glass.
You will see the good old notch on both devices — admittedly, it's now smaller since the
iPhone 13 series
slimmed it out. Of course, this is there to house the array of Face ID sensors and the selfie camera. Apple's face unlocking has become incredibly quick and reliable over the years, and we find it easy to unlock the iPhone 14 and iPhone 14 Plus with just a glance. They even support facial scans when you are wearing a face mask.
Flat aluminum frame on the sides and glossy glass backs is what we see again for the base iPhone 14 models. Both versions are, of course, IP68 water- and dust-resistant, as is customary, and will have the Lightning port for charging and data transfer —
possibly for the last time
.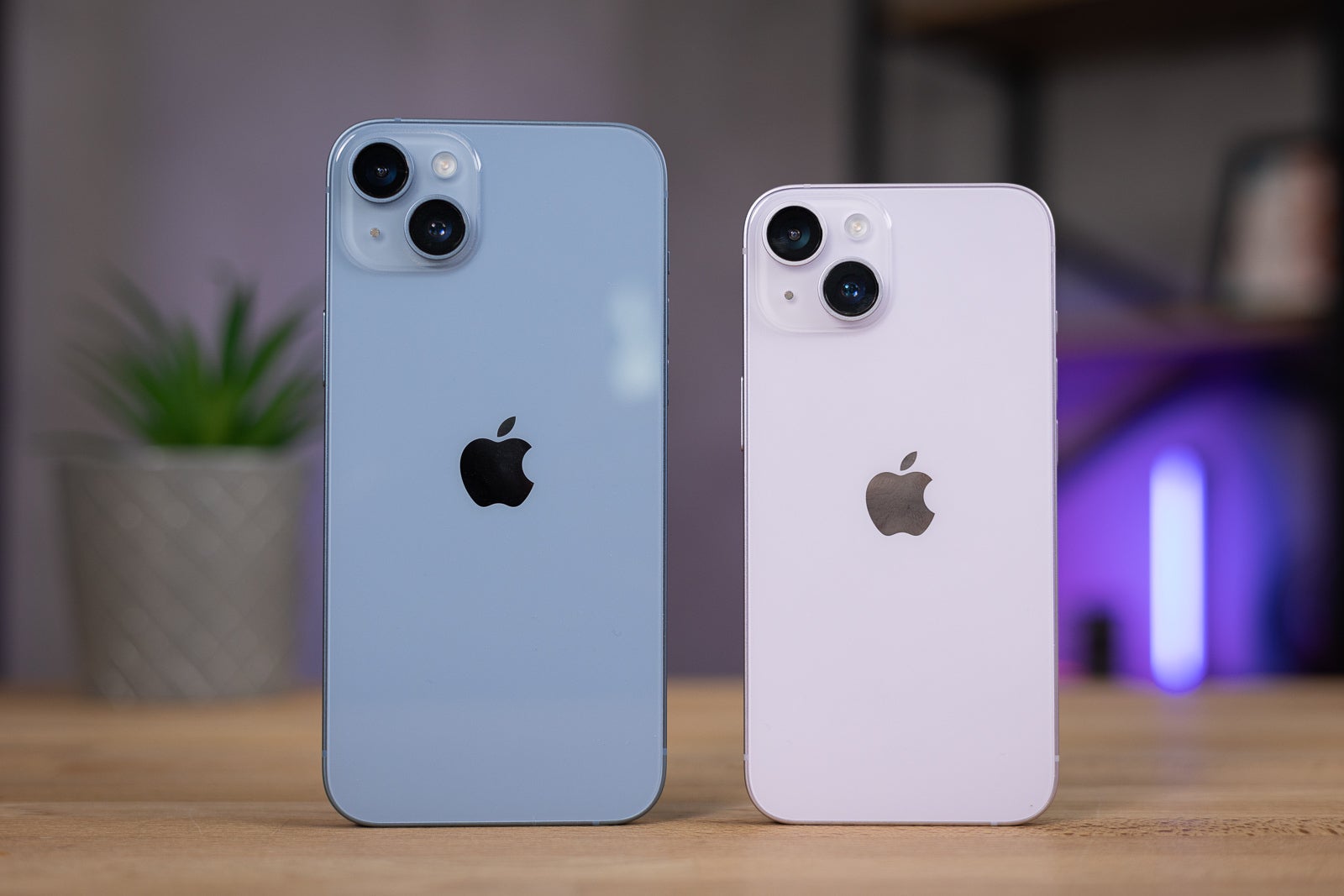 The iPhone 14 and iPhone 14 Plus (Image Credit – PhoneArena)
On the back, we see the square-shaped camera module on both phones. Though, the non-Pro iPhone 14 and iPhone 14 Plus only have dual lenses back there — one wide-angle and one ultra-wide angle camera for each.
The non-Pro iPhones also come in vibrant and fun colors, which sometimes make them more desirable than the "boring" Pro colors — at least to some crowds. The iPhone 14 and 14 Plus are available in five colors: Midnight (black), purple, Starlight (creme white), (PRODUCT)RED, and blue.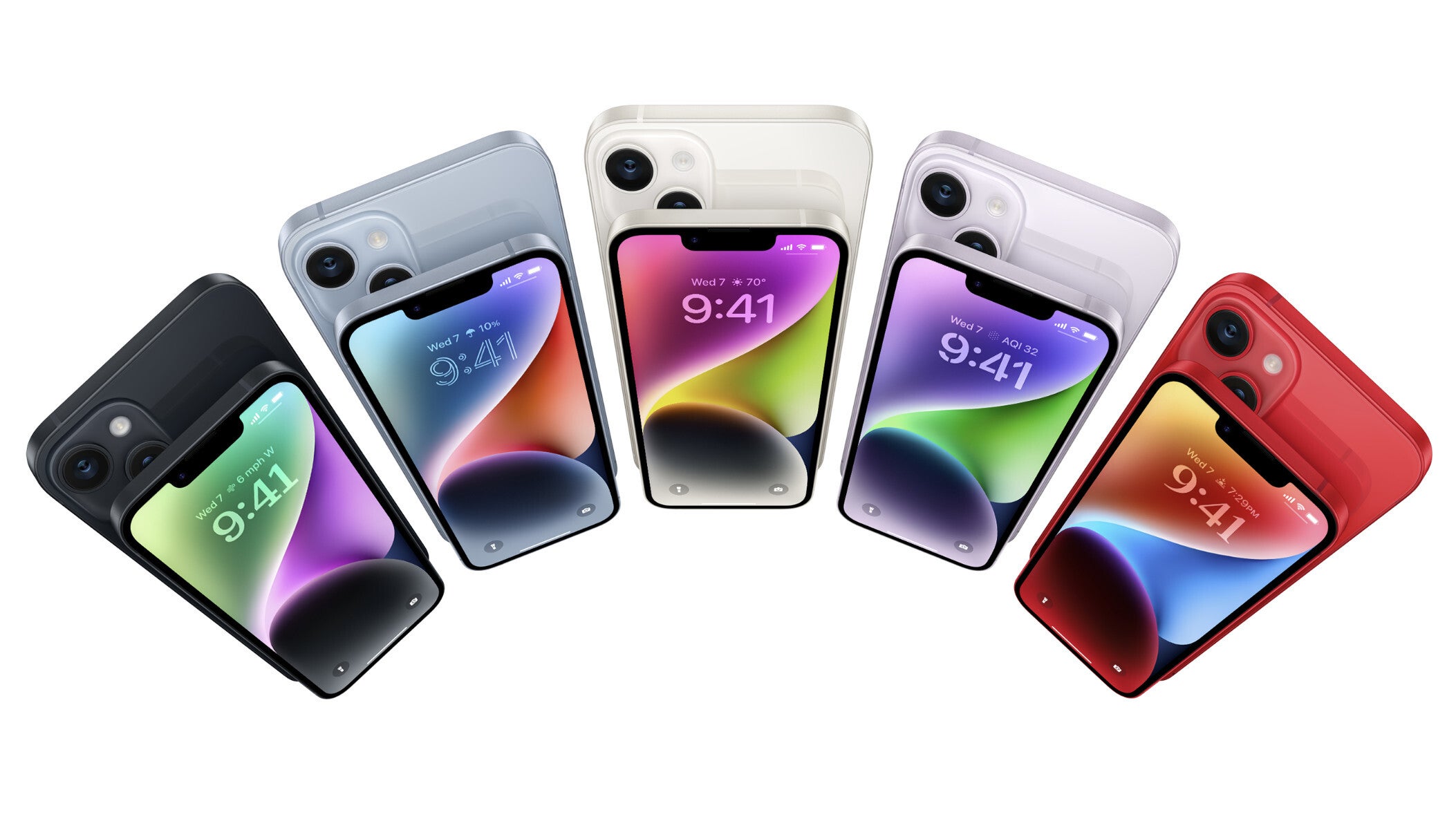 All the iPhone 14 colors (Image Credit – Apple)
So, for all intents and purposes, we are looking at identical iPhones. It's just that one is… bigger. The iPhone 14 Plus is here to scratch the itch of those that wanted the Pro Max size but didn't want to pay Pro Max money.
We have to say, for most people, the size of the regular iPhone 14 will feel just right — it offers plenty of room for thumb typing and viewing content on its 6.1 screen is very much comfortable. The 6.7-inch diagonal of the Plus offers that extra oomph for those that prefer to game on their phone or overly indulge in prolonged Netflix binges. Be sure to get a kickstand, if that's the case!
As for contents in the boxes, inside you'll find an iPhone and a USB-C to Lightning cable. Nothing more, nothing less (hopefully).
Performance and Software
Same chips, a worse deal?
Some might be concerned by Apple's decision to equip the iPhone 14 and iPhone 14 Plus with an Apple A15 Bionic — that is the 2021 iPhone SoC. Indeed, this is the first time ever for Apple to launch a new generation of iPhones with a previous year's chip. However, Apple claims its A15 Bionic is still better than anything its Android competitors have to offer. 
Naturally, with the same chips as last year, we expect the same performance — save for an 18% bump in graphics performance, as the iPhone 14's chip uses a 5-core GPU instead of a quad-core one. Between the 14 and the 14 Plus, we did get slightly better results in the test from the small phone. But we can definitely spot that the larger one has better thermal management, no doubt thanks to its size — it scored higher in the final stages of the 3D Mark WildLife Extreme stress test, compared to the regular iPhone 14.
Performance benchmarks:
By the way, the iPhone 14 Pro models do get a new A16 SoC, which is more powerful and more efficient.
Both the iPhone 14 and iPhone 14 Plus probably come with 6 GB of RAM. Naturally, this is plenty enough for them to run iOS — Apple's extremely efficient operating system, which employs background freezes to keep the phones running snappy.
These phones come with the new 
iOS 16
out of the box, which brings Personalized Spatial Audio for AirPods users, a smarter Mail app, the ability to unsend and edit iMessages, SharePlay within iMessage, improved voice dictation (no doubt feeling the pressure of Google Assistant's voice-to-text), new dynamic widgets on the lockscreen that can update sports scores in real time, and Tap to Pay for small vendors (replaces the need for POS terminal). Plus, a variety of small quality-of-life improvements.
Unsurprisingly, iOS 16 runs great on these phones — smooth, snappy, and responsive. Despite the 60 Hz screens, iPhones feel very fluid when operating. Though, when you switch to the 120 Hz ProMotion screen of a Pro, it requires some getting used to when going back.
A curious addition to the iPhone 14 lineup is satellite connectivity. This is a feature meant to be used in cases of emergency, allowing you to call for help even when cellular coverage is not available. The feature is coming in November for the US and Canada, and will be available on both iPhone 14 and Plus, as well as the Pros.
Camera
An upgraded 12MP dual-cam system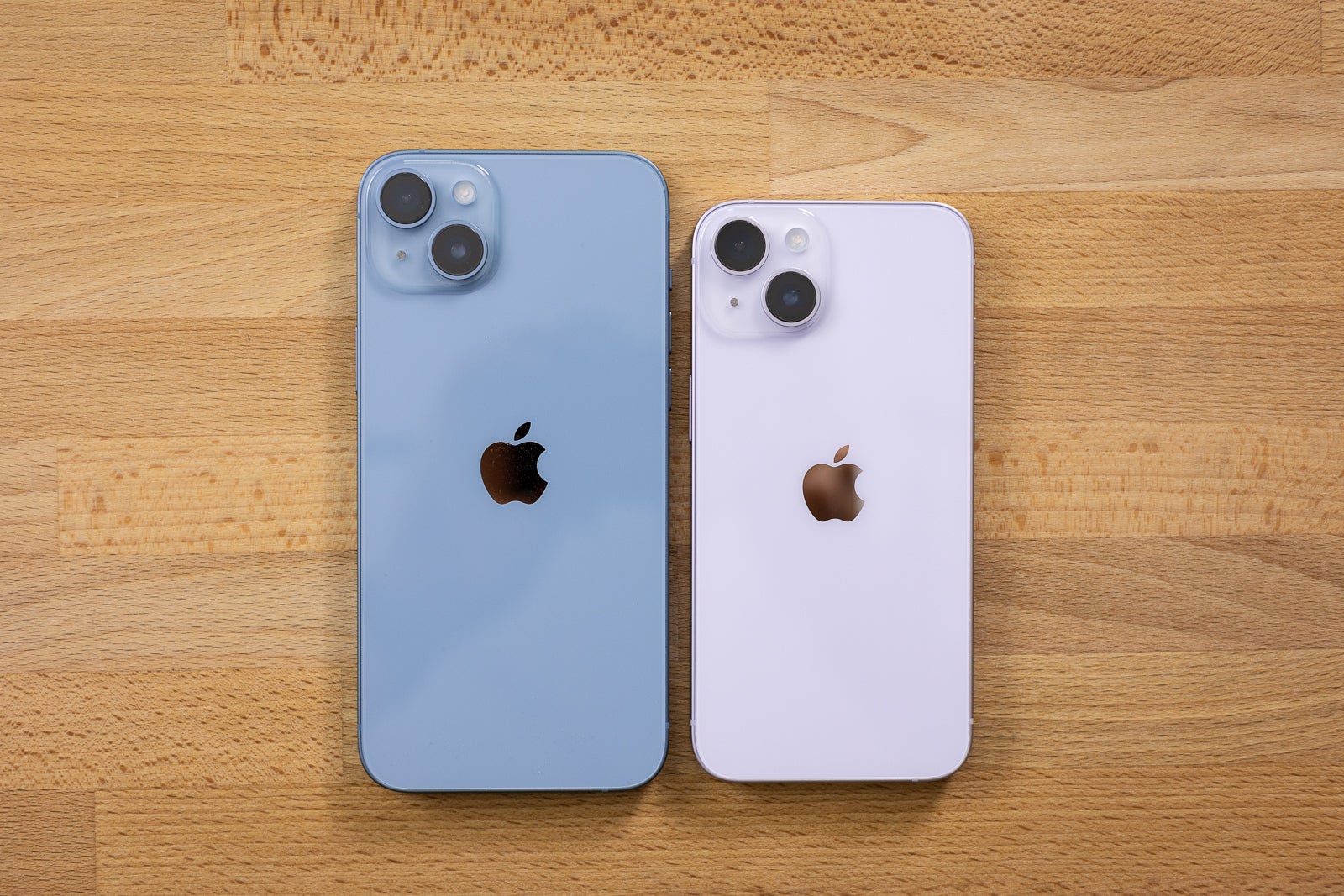 The iPhone 14 and iPhone 14 Plus (Image Credit – PhoneArena)
While the iPhone 14 Pro models sport a brand-new, 48 MP sensor for their main cameras, the iPhone 14 and 14 Plus stay in the past. Once again, we see 12 MP sensors for the wide-angle and ultra-wide-angle cameras of the lower-tier iPhones. And yes, the 14 and 14 Plus come with identical cameras and identical image processing, so no differences to be found here.
Audio Quality and Haptics
The speakers on iPhones have been pretty good in the past years — they've been getting better and better ever since we got the stereo setup with the iPhone 7 series. In the iPhone 13 series, the Pro Max sounds the best — no doubt because the huge body allows for better acoustics inside.
The story repeats itself here — the iPhone 14 sounds great, the iPhone 14 Plus sounds ever so slightly better. Considering these are… well, phones, they do offer a good amount of audible bass, and lots of clarity in the highs. Apple sticks to a slightly V-shaped EQ curve on these speakers, but we wouldn't say there are a lot of details lost in the mids. It's just that the iPhones can sound a tad shrill at full volume.
Battery Life and Charging
Can the Plus max out?
The iPhone 13 Pro Max shocked us with massive battery endurance numbers. Thanks to the huge chassis of the phone, we got a big battery (by iPhone standards) and great thermal management, which no doubt helped in that.
In the case of iPhone 14 vs iPhone 14 Plus, we have respective capacities of 3,279 mAh and 4,325 mAh. And here's how they handled our battery tests:
Yep, that iPhone 14 Plus can reach some impressive endurance numbers. When we are not torturing it with benchmarks, it can truly be a 2-day phone. Though, the regular iPhone 14 is not lagging far behind. We'd say that both these devices have very dependable battery performance.
Specs Comparison
| Specs | iPhone 14 | iPhone 14 Plus |
| --- | --- | --- |
| Dimensions | 5.78 x 2.81 x 0.3 inches (146.7 x 71.5 7.8 mm) | 6.33 x 3.07 x 0.31 inches (160.8 x 78.1 x 7.8 mm) |
| Weight | 6.07 oz (172 g) | 7.16 oz (203 g) |
| Screen | 6.1″ OLED, 60 Hz, HDR | 6.7″ OLED, 60 Hz, HDR |
| Processor | Apple A15 Bionic, 5 nm | Apple A15 Bionic, 5 nm |
| RAM and storage | 4 GB (?), 128, 256, or 512GB storage | 4 GB (?), 128, 256, or 512GB storage |
| Rear Cameras | 12 MP wide, 12 MP ultra-wide | 12 MP wide, 12 MP ultra-wide |
| Front Camera | 12MP with autofocus | 12MP with autofocus |
| Battery Size | 3,279 mAh | 4,325 mAh |
| Charging Speeds | 20W (50% battery in 30 minutes) | 20W (50% battery in 30 minutes) |
| Price | $799, $899, $1099 | $899, $999, $1199 |
Summary and Final Verdict
While we feel that the iPhone 14 is the right size for most people — making the good compromise between a screen that is big enough on a device that's not too much to handle, the iPhone 14 Plus will definitely have its niche. It's meant for the small subset of fans that demand that larger battery and probably enjoy a ton of media on their smartphone — be it gaming or video.
Surely, devout Apple Arcade and Apple TV+ subscribers will find value in the large-screened iPhone 14 Plus that doesn't cost as much as a Pro Max. If you don't see yourself as someone who spends a ton of time staring at a phone screen, you will most probably be just fine with the iPhone 14 and its more easily pocketable size.
Read original article here





Denial of responsibility! Gulehri.com is an automatic aggregator of the all world's media. In each content, the hyperlink to the primary source is specified. All trademarks belong to their rightful owners, all materials to their authors. If you are the owner of the content and do not want us to publish your materials, please contact us by email – admin@gulehri.com. The content will be deleted within 24 hours.