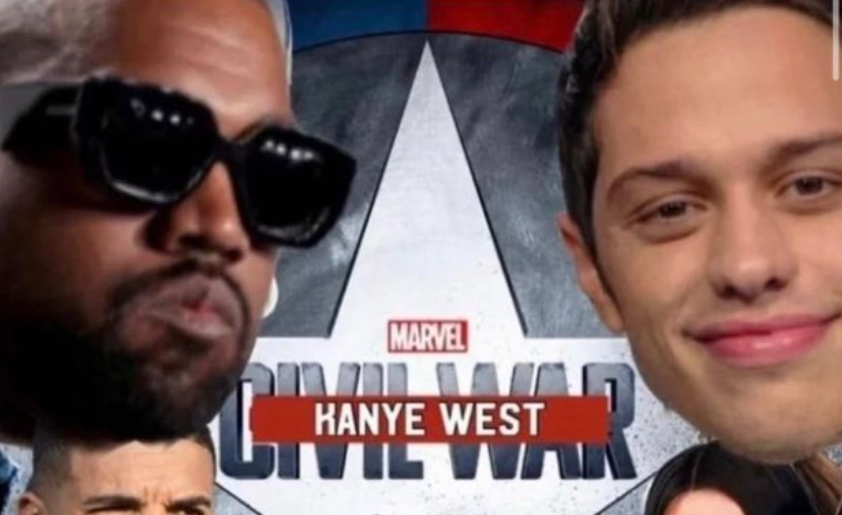 2022-02-14 03:07:57

Rapper Ye, more famously known as Kanye West, does not appear to believe in subtlety, as is apparent from his recent social media tirade against his self-proclaimed nemesis Pete Davidson, as well as former collaborator Kid Cudi and pop singer Billie Eilish. In a series of now-deleted Instagram posts, West targeted Davidson, who is currently in a relationship with his soon to be ex-wife Kim Kardashian, blaming him for breaking up his family, referring to the comedian as "Skete" as well as "Hillary Clinton's ex-boyfriend".
West also took aim at Kid Cudi, taking to Instagram to declare that the rapper will no longer be featured on his upcoming album Donda 2. The Heartless singer uploaded a picture of text in black marker on an index card that read, "Just so everyone knows Cudi will not be on Donda because he's friends with you know who," referring to Davidson. He added, "We all speak Billie language now," in a dig at the young Grammy-winner.
Cudi replied to West's post, writing, "Too bad I don't wanna be on your album, you dinosaur hahaha [crying-laughing emoji]. Everyone knows I've been the best thing about your albums since I met you. I [will] pray for you brother. [two-fingers peace emoji.]"
West directed his wrath towards Eilish after the singer reportedly paused a concert to help out an unwell fan, with the rapper assuming Eilish's gesture was a dig at his friend Travis Scott, whose Astroworld concert saw the death of 10 people due to a crowd surge. Eilish said while helping out the fan, "I wait for people to be okay before I keep going," with West later posting in all-caps, "Come on, Billie. We love you. Please apologise to Trav and to the families of the people who lost their lives. No one intended for this to happen. Trav didn't have any idea of what was happening when he was on stage and was very hurt by what happened. Trav will be with me at Coachella but now I need Billie to apologise before I perform."
In the most hilarious part of West's outburst, the rapper uploaded a crudely photoshopped image of the infamous Captain America: Civil War poster, editing in himself, Drake, his current girlfriend Julia Fox, Scott and rapper Future on one side, and Davidson, Kardashian, Cudi, Eilish, and long-time nemesis Taylor Swift on the other. He captioned the post, "The internet still hasn't found a decent picture of Skete."
In a separate post, West posted a picture of Davidson, writing, "I wonder if Instagram is going to shut my page for dissing Hillary Clinton's ex-boyfriend," also posting a picture of Davidson's tattoo of the politician on his forearm as apparent proof.
Naturally, West's antics quickly went viral across Twitter, with users churning out one hilarious meme after the other.
how can kanye make my beautiful dark twisted fantasy but not know how to crop a photo on instagram

— hungrybox (@LiquidHbox) February 14, 2022