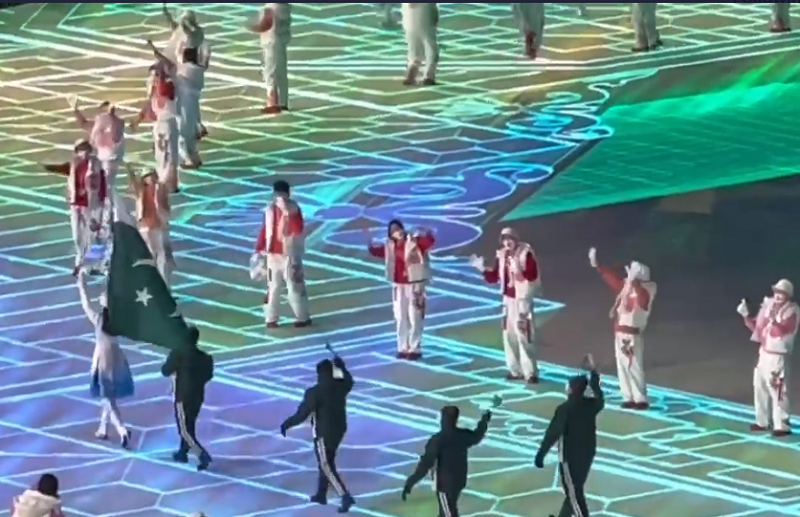 2022-02-04 11:55:35

The Pakistani team participating in the Beijing Winter Olympics received round of applause from spectators as it entered the stadium where Prime Minister Imran Khan among other world leaders were also in attendance.
Information Minister Fawad Chaudhry claimed in a tweet on Friday that dozens of teams entered the Beijing's National Stadium but only Pakistani and Chinese teams received applause.
"Chinese people love Pakistan and the applause is an expression of the same spirit," he added.
On the arrival of the Pakistani team, PM Imran also stood up from his seat and cheered for the team.
A five-member Pakistani squad arrived in Beijing on Wednesday to participate in the Winter Olympic Games.
"Pakistani contingent comprises one athlete and four officials," Agha Hunain Abbas Khan, Olympic Attach, Embassy of Pakistan Beijing told APP.
Muhammad Karim, Alpine Skiing Athlete hailing from Naltar, Gilgit-Baltistan (GB) will compete in the Slalom event on February 16 at the China National Alpine Skiing Centre, Yanging District, Beijing.
"I'm very excited and fully prepared to participate in the Beijing 2022 Winter Olympics. I heard that they used the very latest technologies on ski slopes and the world's best sports facilities there. I can't wait to see all these things," he told media before his departure to China.
Also read: PM Imran attends opening ceremony of Beijing Olympics
Muhammad Karim said that participating in the Winter Olympics is a great chance to put Pakistan on the map of international sports.
"I am confident to give my best performance in Beijing and win the hearts of the Pakistani people," he added.
Muhammad Karim, 26, is the only Pakistani skier to have participated in two Winter Olympics in Sochi, Russia, and Pyeongchang, South Korea.
The top Pakistani skier is excited and looking forward to this year Olympics Games which will put Pakistan on the international sports map.
"I have been preparing for the Beijing Winter Olympics for three years and my biggest dream is to participate in the Beijing Winter Olympics and achieve my best records by performing well," he added.