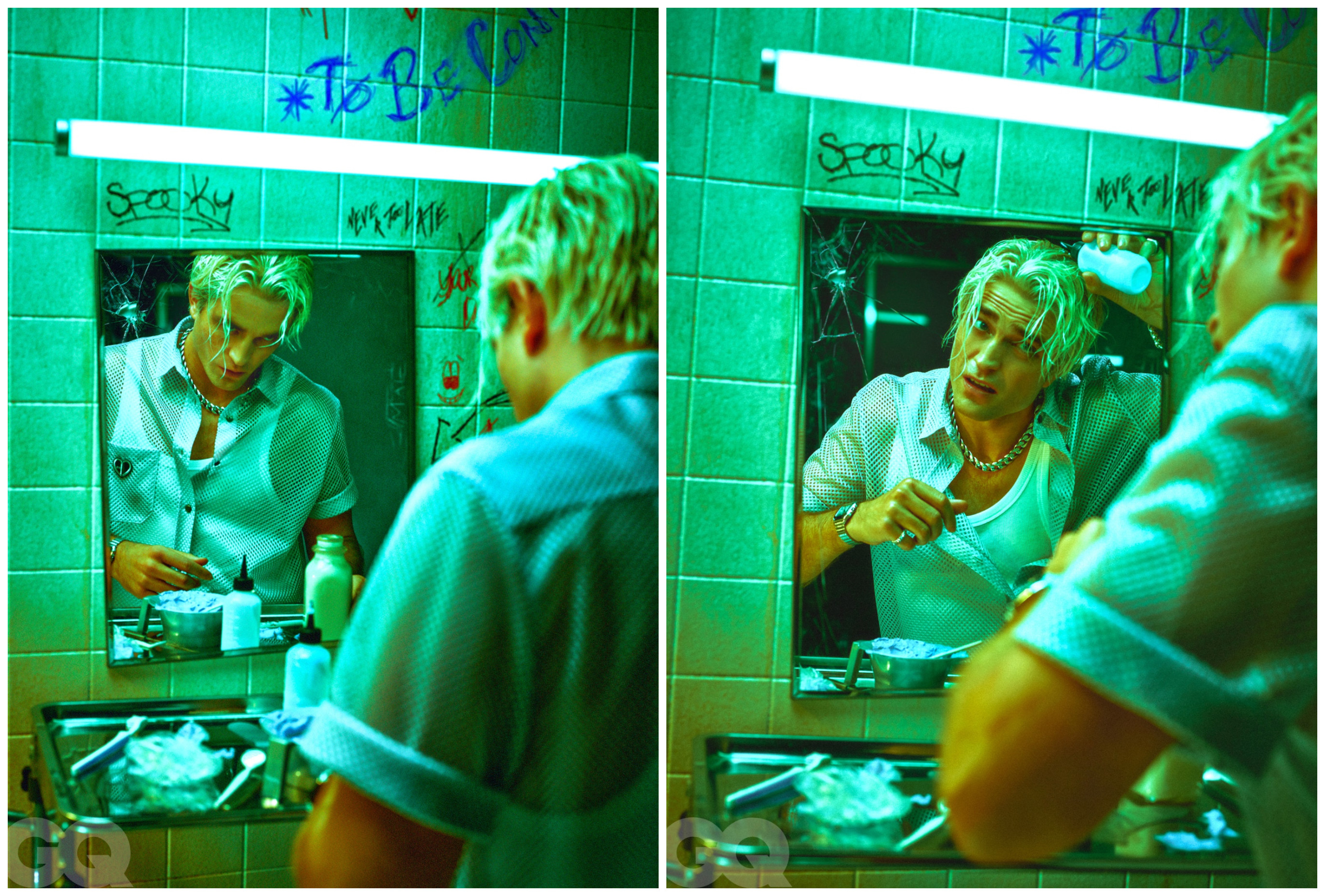 2022-02-12 02:00:29

"A lot of Batman fans are like, he's tiny, he's tiny! I'm not tiny!" assures Robert Pattinson in his latest interview with GQ. "I'm a large person. About half the time, I'm trying to get skinnier." Pattinson, a chameleon with the ability to mould himself by great measure for anything he does, rarely ever transforms only physically.
"He's a chameleon," Matt Reeves, director of The Batman, says. "Recently, Rob was telling me that he never plays a character with exactly his voice. The voice is one of his ways in."
Pattinson's career to this point has been shaped by a combination of talent, desire, luck, attendant fame, and bold choices. The fame factor has a lot to do with Twilight, the teen-vampire saga that grossed billions of dollars. But since then, Pattinson's been "constantly doing risk assessments, which drives everybody crazy, trying to predict every single element that could possibly happen."
Things kicked off on a favourable note for the actor when shooting for The Batman began at the end of 2019. "Then I broke my wrist at the beginning of it all, doing a stunt, even before Covid. So, the whole first section was trying to keep working out—looking like a penguin." And the obstacles brought on by the unprecedented global pandemic were far worse.
Yet, Pattinson felt grateful. "Everyone I know, if you had a little momentum going in your career or your life, then stop, you had to have a reckoning with yourself. Whereas I was so incredibly busy the whole time, doing something that was also super high pressure, by far the hardest thing I've ever done… I was still playing Batman at the end of the day, even though the world might end. Even if the world burns down, I've just got to get this thing out!"
For Pattinson, the set on the outskirts of London became a "bubble within a bubble," and the nature of the shoot was kind of 'insular'. "You're not really allowed out of the studio with the suit on, so I barely knew what was going on at all outside." Pattinson was provided with a little tent off to the side of the set where he could go to decompress. "I watched a rough cut of the movie by myself," he shares. "And the first shot is so jarring from any other Batman film. Matt, from the first meeting, had been saying: 'I want to do a '70s noir detective story, like The Conversation.' And I kind of assumed that meant the mood board or something."
Pattinson recalled "feeling like an idiot" because he didn't even know that Batman was "the world's greatest detective." He goes on to add, "Batman also doesn't have a playboy persona at all. So, he's kind of a weirdo as Bruce and a weirdo as Batman, and I kept thinking there's a more nihilistic slant to it. Cause, normally, in all the other movies, Bruce goes away, trains, and returns to Gotham believing in himself and fixing things. But in this, it's sort of implied that he's had a bit of a breakdown. This thing he's doing, it's not even working."
In Pattinson's Batman, "The people of Gotham think that he's just another symptom of how shit everything is. All the other stories say the death of his parents is why Bruce becomes Batman but I was trying to break that down in what I thought was a real way. He's created this intricate construction for years and years and years, which has culminated in this Batman persona. But it's not like a healthy thing that he's done. Almost like a drug addiction." He goes on to call DC an "emo comic," adding, "There's a nihilistic side to it. Even the artwork is really, really different. So, hopefully, there are a lot of sad people in the world."
The Tenet star, however, laments, "I really thought that after Batman, I'd be a lot more… Before Tenet, my agents were like, 'Yeah, you're just not on the list for stuff.' And I just totally, by fluke, get these two massive films."
Pattinson's career choices over the past decade are testament to the fact that an actor must not only work with directors who make good films but directors who make people want to both watch their films and be part of the subculture that they cultivate. "If you provide a film which provides an entire culture with it, I think people really respond to it."
Post-Twilight, Pattinson has worked with David Cronenberg, Werner Herzog, James Gray, Claire Denis. But no match has seemed quite as electrified as the one with Josh and Benny Safdie, with whom he made 2017's Good Time. "They're very kind of anarchic. But it's not out of control at all. They're some of the only directors I've worked with who thrive on the chaos but where they're also always just in control."
However, the actor feels himself getting older by the instant. "Thirty-five was definitely the year when things changed. I really stretched out my adolescence to about 34." Despite making what many would call, 'countless right decisions,' Pattinson doesn't think they have amounted to an obvious path forward. Not long ago, he was having a conversation with his manager about his paralysis and indecision about what to do next on every front. "I said, 'I don't want to make a mistake on what to do next.' And then my manager's like, 'I understand this but the longer you wait, you're not going to have a movie come out until 2024. And by then, no one will give a shit what you're doing.' Now it's like: What on earth is the direction to go in?"
Have something to add to the story? Share it in the comments below.