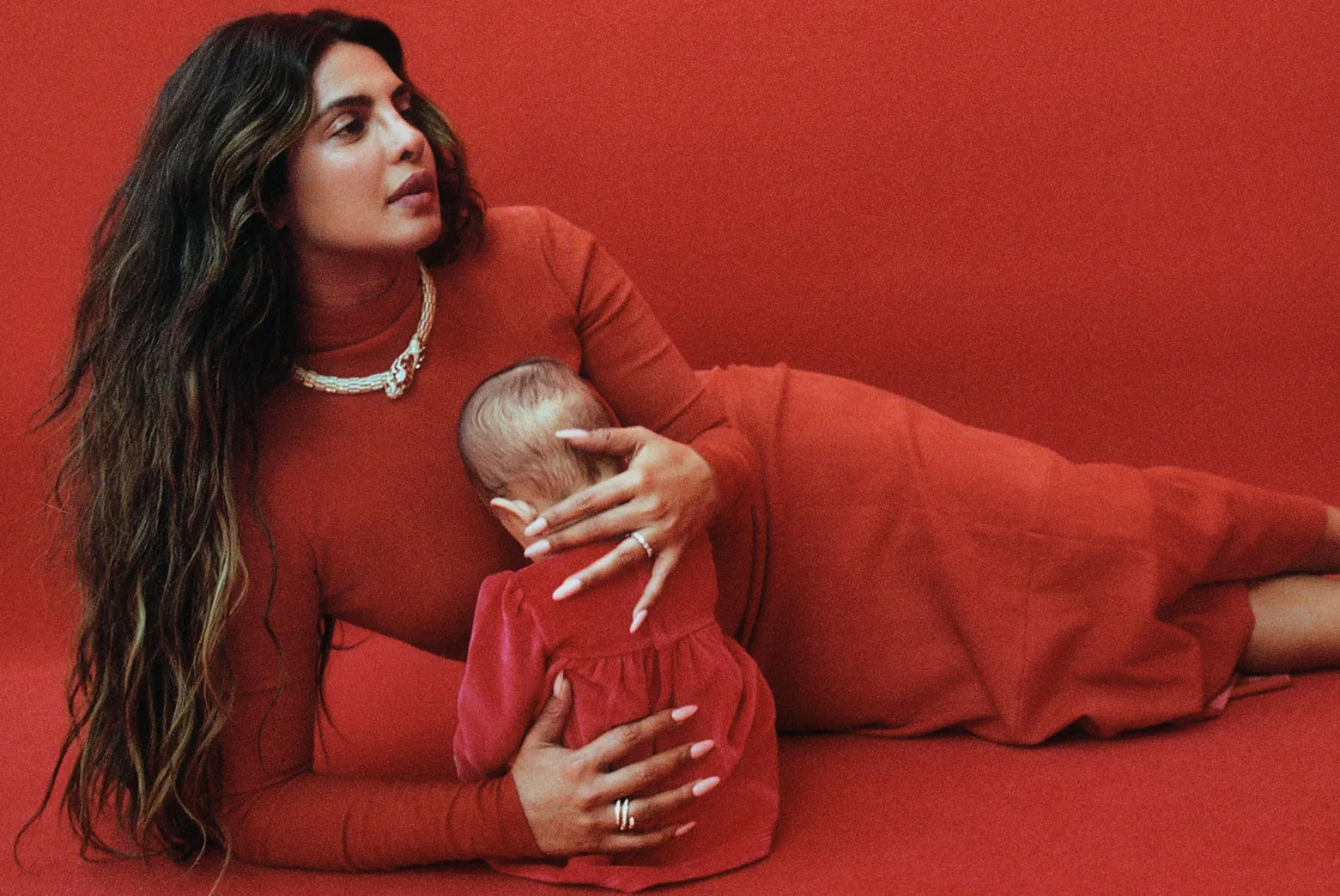 Priyanka Chopra Jonas is rather thick-skinned when it comes to online trolling, but her daughter is where she draws the line. Chopra welcomed her firstborn Malti Marie Chopra Jonas, last year in January through surrogacy, with her husband, American popstar, Nick Jonas. 
But like clockwork, every time the former Miss World makes headlines, she's chased by bullies. This time was no different. Many questioned her decision to opt for surrogacy instead of having the baby herself. While Chopra has often laughed off the criticism, in an interview with British Vogue, she's baring it all.  
"Vulnerabilities are difficult for me. You see me all over socials and all over the world, talking about all the things, but if you actually look, I've really just scratched the surface," she told the publication. 
Talking about motherhood, Chopra said her daughter was born a full trimester too early. "I was in the OR [operating room] when she came out. She was so small, smaller than my hand. I saw what the intensive-care nurses do. They do God's work. Nick and I were both standing there as they intubated her. I don't know how they even found what they needed [in her tiny body] to intubate her." She added, "I didn't know if she would make it or not."
Addressing why she didn't carry her daughter herself, the Bajirao Mastani actor revealed she had medical complications which meant she could not carry a child herself. "I had medical complications," Chopra said. "This was a necessary step, and I'm so grateful I was in a position where I could do this. Our surrogate was so generous, kind, lovely and funny, and she took care of this precious gift for us for six months."
But for the internet trolls who made a sport of theorising why the couple enlisted a surrogate, Chopra's tone takes on an edge. "You don't know me," the actor remarked. "You don't know what I've been through. And just because I don't want to make my medical history, or my daughter's, public doesn't give you the right to make up whatever the reasons were." 
Adding how she's developed a tough hide when people talk about her, the star commented the trolls talking about Malti naturally a little rattled still. "But it's so painful when they talk about my daughter. I'm like, 'Keep her out of it.' I know what it felt like to hold her little hands when they were trying to find her veins. So no, she's not going to be gossip." Chopra paused. "I've been really protective of this chapter of my life with my daughter. Because it's not about my life only. It's hers too."
On the work front
After a fruitful career comprising several hit Bollywood and Hollywood projects, she thought it was high time for her to move ahead. "After 20 years, I've reached a place where I'm like, 'There's got to be more than this…' I have my own production house where I can tell other people's stories, where I'm working with new filmmakers who want to jump off the diving board – and my shoulders are the diving board. I'm getting to create stories with women behind the camera, which I almost never saw when I was growing up," she commented about her upcoming productions. 
"Hopefully I'll open doors for the next generation of girls. Hopefully, we'll see more Indian or South Asian actors in Hollywood. I want to commemorate the success and achievements of South Asians outside of India, in the international sphere, because we deserve that position," she asserted. "Why shouldn't we be on the main stage?"
She concluded her chat as she spoke of her daughter. "I want her to be able to look back and be proud of my choices," Chopra said, her eyes lighting up as she lifted Malti into her arms. "I want to do right by her."
Have something to add to the story? Share it in the comments below.