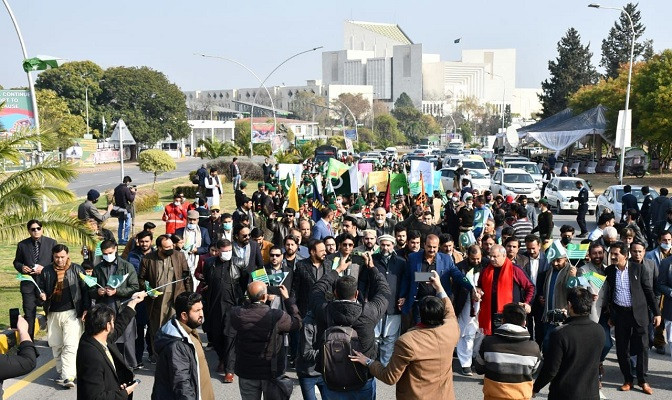 2022-02-05 12:08:06


ISLAMABAD:

A rally was held in the federal capital to express solidarity with the oppressed people of the Indian Illegally Occupied Jammu and Kashmir (IIOJK) on Saturday. It was jointly organised by the civil society, political parties, Pakistan Sweet Homes and the National Press Club to support the rightful cause of the Kashmiris.
The rally started from a solidarity camp, set up in front of the Parliament House, and culminated near the Indian Embassy.
Chairman Jammu and Kashmir Salvation Movement (JKSM) Altaf Ahmed Bhat and leaders of All Parties Hurriyat Conference (APHC) were the special guests on the occasion.
At the camp, children of Pakistan Sweet Homes held placards and chanted slogans for the people of IIOJK.
Expressing his views, Bhat said: "Pakistan has to fight for Kashmir at some point in time, then why not respond to India in its 'military might' style?"
Also read: Pakistan observes Kashmir Day, assures of unwavering support
"One and half-year-old Hiba Jan, a victim of a pellet gun, [is] looking towards Pakistan even today," he said. Neither Modi nor any of his friend would dare to set foot in Kashmir after the withdrawal of the Indian army from the held territory, he maintained.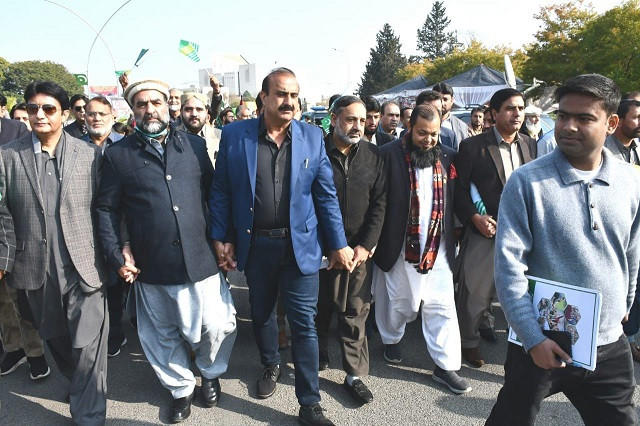 "The Indian Army is coward and its rulers are even weaker," Bhat remarked.
He clarified that JKSM did not have affiliation with any political party because for them, all Pakistanis are brothers as Muslims.
He observed that the purpose of observing the day was to show that there is no precedence in the world for the killing of women, children and the elderly without any crime.
"The people of IIOJK consider Prime Minister Imran Khan a hero and now he has more responsibility to fight for the Kashmir cause," JKSM chief remarked.
"The present government should take practical steps to get the Article 370 restored," he stressed.
Also read: Modi's fascist policies have failed to crush Kashmiri resistance spirit: PM Imran
Speaking on the occasion, Member of the Provincial Assembly (MPA) Abida Raja said, "We have to tell the world about the atrocities… Kashmiris' struggle will never go in vain and it'll become a part of Pakistan soon."
MPA Farah Agha said Kashmiris were the life and blood of Pakistan and all political parties should think collectively of Kashmir and stand with the victims till the independence of the occupied valley.
Labour Union General Secretary Chaudhry Yasin said the entire nation stood by Kashmiris, and urged human rights bodies and international community to take concrete steps against the Indian atrocities.
Former President Pakistan Federal Union of Journalists (PFUJ) Afzal Butt paid tribute to the children of Sweet Homes, Zamrud Khan and Altaf Ahmed Bhat for organising the event.
"The perpetrators are standing on one side. I hope you are not disappointed. By the will of Allah, the sun of independence will rise in Kashmir soon," he concluded.