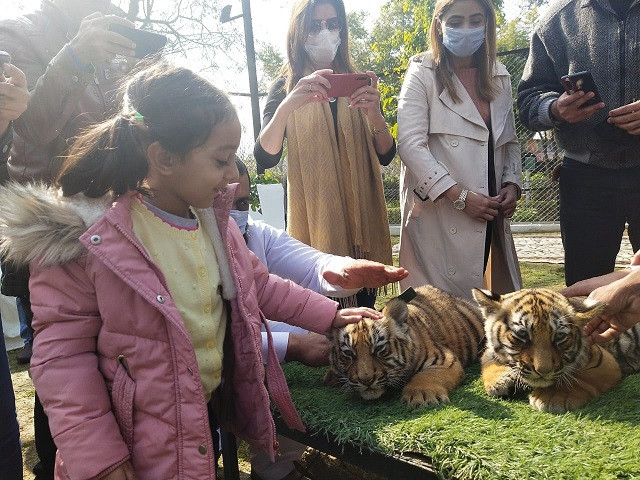 2022-02-05 09:45:54


RAWALPINDI:

A Bengal tigress gave birth to two cubs at the Jungle World in Ayub National Park, Rawalpindi, after which a large number of people, including children, thronged the facility to catch a glimpse of the twins.
The two cubs — Felix and Julia — belonging to the endangered species of Bengal tiger were presented for public viewing at a grand ceremony organised at the park on Saturday.
Army Heritage Foundation (AHF) Director General Brigadier (retd) Muhammad Asif Hayat, while talking to the media, said almost 2,500 people will be able to visit and see the cubs every day.
PHOTO: EXPRESS
He shared there were only 3,500 Bengal tigers in the world, including the five at the Ayub National Park. Eight Bengal tigers currently at the Lahore Zoo will also be shifted to the park soon.
"The birth of the cubs is a testament to the fact that the Ayub Park administration provides the best natural environment to these magnificent tigers," he said, adding that the park had always been kept in its original condition.
Between 1990 and 1995, the park area was a complete jungle and nobody dared to walk past it. Then, General (retd) Pervez Musharraf decided to form AHF, which converted the entire area into a beautiful park.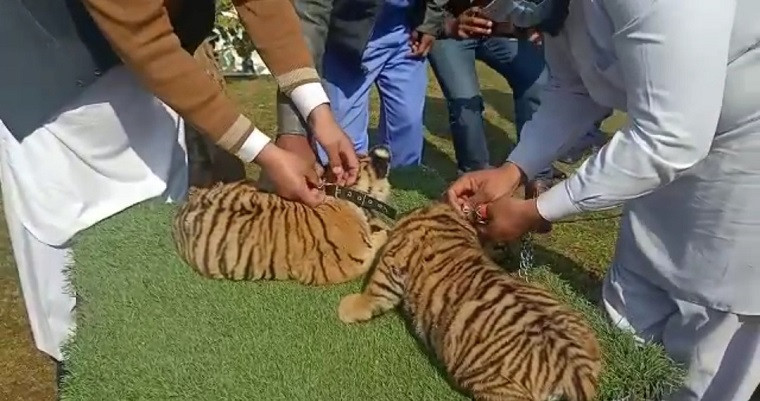 PHOTO: EXPRESS
"We want this park to have recreational facilities like Disneyland, which is being started from Jungle World. Our biggest problem is lack of funding that doesn't come from outside," said Hayat. The park has a hockey ground, museum, food street, guestroom and the park is open for visitors round-the-clock.
Also read: Rare snow leopard cubs spotted in northern Pakistan
"We are talking to the owners of various food outlets to open their branches here. We have built the Miracle Garden, which is more like Dubai Miracle Garden where we have 200,000 plants of different colours," he claimed.
The official urged people to visit the park because it is affordable for everyone. "We have built a zoo of the international standard and the construction of Jurassic Park is also on the cards," he said.
With the number of lions and tigers on a general decline across the world, the welcome news about the birth of these two cubs has been received with considerable warmth and positivity.