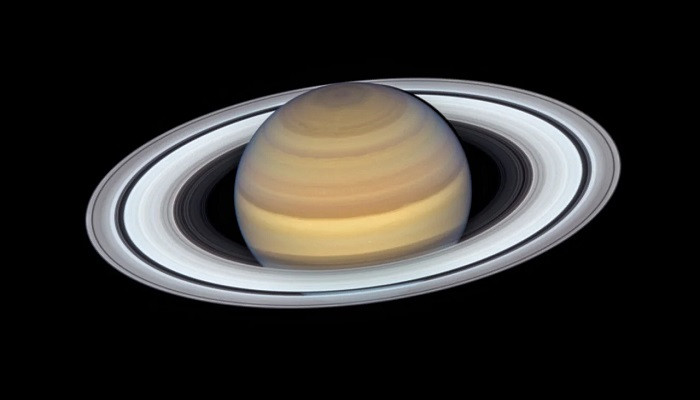 Scientists have finally put a number on the age of Saturn's iconic rings, which makes them much younger than the planet that is said to be 4.5 billion years old.
New research shows these rings are only 400 million years old — less than a tenth the age of the planet — making them much younger than thought earlier.
This discovery seemingly cracks a longstanding astronomical code and a team of US scientists found all the answers in the dust.
According to the lead author of the study Professor Sascha Kempf, an easier way to understand their research is to imagine that Saturn's rings are like the carpet in your house.
"If you have a clean carpet laid out, you just have to wait. Dust will settle on your carpet. The same is true for the rings," Kempf said.
Saturn's celebrated rings have finally been given an age.
There have been many theories about the formation of these rings. Some said they were formed by themselves, while others proposed they were created not long ago probably involving the debris of an unstable moon that exploded or the ice, rocks, and dust left by a drive-by comet that may have collided with the satellite.
The team from the University of Colorado Boulder says Saturn's rings are 'no more than 400 million years old'.
"That makes the rings much younger than Saturn itself, which is about 4.5 billion years old," Professor Kempf said and added, "In a way, we have closure on a question that started with James Clerk Maxwell.'
Maxwell, the famed Scottish physicist first inferred Saturn's rings must consist of countless particles. The Maxwell Gap within Saturn's C ring is named after him.
Cosmic rocky gravel or crushed asteroids shower on Earth almost all the time. In some cases, this flux can leave behind a thin layer of dust on planets.
Professor Kempf and her colleagues studied how fast this layer builds up.
This team of scientists used Cosmic Dust Analyzer, a state-of-the-art instrument aboard Nasa's Cassini spacecraft to analyse orbiting specks between 2004 and 2017.
"Over those 13 years, the researchers collected just 163 grains that had originated from beyond the planet's close neighbourhood," the study said and added they were enough to strongly indicate the accumulation of dust on the rings was only a few hundred million years old.
This can be a very short-lived phenomenon.
"We know approximately how old the rings are, but it doesn't solve any of our other problems. We still don't know how these rings formed in the first place," Professor Kempf said.
Read original article here





Denial of responsibility! Gulehri.com is an automatic aggregator of the all world's media. In each content, the hyperlink to the primary source is specified. All trademarks belong to their rightful owners, all materials to their authors. If you are the owner of the content and do not want us to publish your materials, please contact us by email – admin@gulehri.com. The content will be deleted within 24 hours.