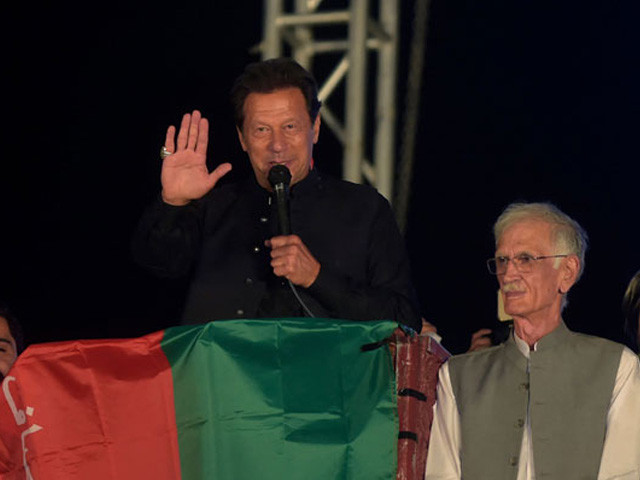 The verdict will have absolutely no effect on PTI's popularity. Its real woes, if any, are going to be legal.
Last week, the Election Commission of Pakistan (ECP) in its extremely significant verdict announced that Imran Khan's Pakistan Tehreek-e-Insaf (PTI) took funds from foreign countries including the US, UAE, Australia and the UK. According to the law of the land, political parties are prohibited to receive such funds from foreign nationals or companies. The case which was first filed by a disgruntled founding member of the PTI, Akbar S Babar in November 2014, came to its conclusion after eight long years, as PTI lawyers tried every possible legal tactic to delay proceedings.
Following the verdict, the Federal Investifgation Agency (FIA) has kickstarted its investigation and reported that 13 hidden foreign accounts and 34 suspicious transactions have been identified. As per the news the FIA has issued notices to the concerned banks and moreover also interviewed four PTI members who allegedly received amounts in this connection.
I am not going to talk about the merits of the decision as too much has already been written on that. There is a broad consensus that PTI did indeed violate the law by accepting this funding. Even PTI's own leadership has constantly been lamenting the fact that the ECP did not investigate similar matters of other parties. Moreover, the fact that earlier PTI had used every possible delaying tactic also points to the fact that the party knew that it was on a very weak wicket.
Imran's resurgence in popularity – he is at the moment without doubt the most popular leader – means that he cannot die a political death through lack of public support. So given this situation, the significance of this case in terms of its implication has increased manifold as the decision has potentially serious legal and electoral implications for the PTI. In other words, this verdict can be a game changer and right now one of the few options left to dislodge the increasingly dangerous Imran Khan.
So, what are the electoral implications for the PTI? Has the verdict damaged its carefully crafted reputation of being a clean party? From a normative point of view, perhaps yes. The PTI has clearly violated law and moreover the fact that the infamous Abraaj group is also allegedly involved in foreign funding, using the cover of a charity cricket match puts a very serious question mark on the party's financial integrity.
However, my contention is that this verdict, while tarnishing PTI's reputation in some neutral quarters, will have absolutely no effect on its popularity. In fact, I believe that the verdict gives PTI another opportunity to further energise its already angry core support base by claiming that it is being deliberately targeted by the establishment and Pakistan Democratic Movement (PDM) who are working on some covert foreign agenda. Right now, every accusation or step taken against PTI is therefore having a completely counterproductive effect.
There are two major reasons behind PTI's apparent success. First, PTI is not exactly a political party which evolved naturally over time, but rather a messiah-centered personality cult. I have already written previously on how PTI's core supporters are more ideological, having been successfully tutored in Pakistani textbook nationalism and are enthralled by Imran who, in their opinion, is the embodiment of patriotism and religious devotion. Personality cults by nature are immune to negative news (even if they are completely true) and in fact are likely to interpret these as false accusations and conspiracies. In Imran's case, his cult has only become stronger after his ouster and his supporters think the verdict is another nefarious attempt to malign their hero to prevent him from a triumphant return.
Second, the political climate in the country has become extremely polarised and when polarisation occurs, the opposing camps become even more anchored in their positions. A lot of academic literature examines polarisation and there is a general consensus that it undermines rational voting behaviour by dividing the voters into largely mutually exclusive groups, thereby eroding the middle ground. In such circumstances, intense mistrust and loathing of the opposite camp develops which precludes objective analysis of factual situation. In Pakistan, Imran's supporters are already cultish and therefore the increase in polarisation has an amplified effect and therefore they are highly unlikely to be swayed away, and in fact will gravitate further towards their leader. Therefore, PTI's electoral prospects may have actually improved – if analysed from the popularity angle – after this verdict.
Having said so, PTI's real woes, if any, are going to be legal. In Pakistan, legal route has often been used to dislodge a popular politician. In contemporary times, Pakistan Muslim League-Nawaz's (PML-N) supremo Nawaz Sharif is the clearest example of the way legal and judicial mechanism was used to disqualify him for life. For this purpose, the courts interpreted merely non-declaration of Iqama in his nomination papers as proof that he did not qualify the criteria laid down in Article 62 of the Constitution according to which a person cannot be qualified as a member of the national or provincial legislatures if he is not 'Sadiq and Ameen' – truthful and trustworthy.
Despite a rather weak basis, Nawaz was disqualified mainly due to his problems with then establishment. In PTI's case, this matter will be decided in the Supreme Court and ultimately Imran's relations with the establishment are going to determine his legal fate. If Imran continues his confrontational stance with the establishment, then the latter has much stronger legal basis to disqualify Imran and even dissolve PTI. Of course, Imran's newfound popularity and massive street power are going to be critical considerations and therefore if such a decision is taken, then first Imran's supportive electronic media channels will be targeted along with a crackdown on his active social media supporters. The state might also arrest some key party spokespersons. Some of the above has already started to take place giving indication that the state might be reaching its tolerance threshold.
Right now, the ball is in Imran Khan's court.


Read original article here



Denial of responsibility! Gulehri.com is an automatic aggregator of the all world's media. In each content, the hyperlink to the primary source is specified. All trademarks belong to their rightful owners, all materials to their authors. If you are the owner of the content and do not want us to publish your materials, please contact us by email – admin@gulehri.com. The content will be deleted within 24 hours.