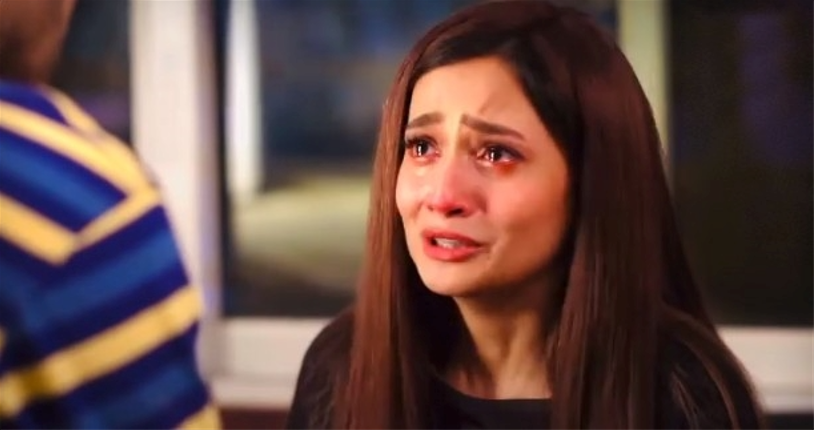 2022-02-09 05:40:22

Actor Zarnish Khan, whose television serial Aitebaar received immense backlash on Twitter recently, has claimed that in real life, she condemns the kind of behaviour depicted in the viral scene.
Aitebaar received flak for showing a scene where a husband refuses to even look at his wife upon her return home after being abducted because he is under the impression that she may have been sexually exploited. It sees Zarnish's character constantly apologising and explaining that she remains untouched, instead of arguing why it matters so much for her 'honour' to remain intact, even in a matter of life and death. 
Now, Zarnish has shared the same scene on Instagram with a note. "After viewing this scene my family  barred me from ever crying again," she quipped, adding, "On a serious note, I completely condemn this kind of behavior, girls are much stronger than this and I'd like for all of us to acknowledge that."
The actor continued, "Your man deserves all the respect and loyalty in the world as long as he has the same amount of respect and love to offer if not more. Know your worth and never beg!" Quoting something she read recently, Zarnish concluded, "'When some things are not working in life that means the universe is trying to save you.'"
However, viewers are still not convinced with her post-cum-clarification. "Bibi, jab ap ye scene kar rahi thin aur apko paese mil rahe the, tab ye morality jhaarni thi (Ma'am, when you were doing this scene and getting paid for it, you should've displayed this morality then). Now that its out and you're receiving backlash, don't try to fool people."
Another continued, "[Then] you should have requested the director to change this scene." One more chimed in, "Then you should play a character you can agree with so that you can leave an impact on the society. Kia faida k ap kahen girls r stronger or phir aesy roles b kren (What is the point of saying girls are stronger and then doing these kind of roles)?"
Several, however, also complimented her performance, albeit, many are still wondering when Pakistani dramas will go from telling the hard truth to showcasing behaviours that will inspire a change in society. 
Have something to add to the story? Share it in the comments below.